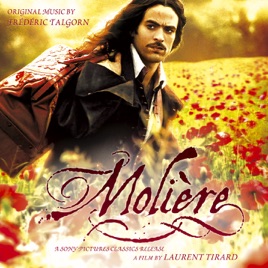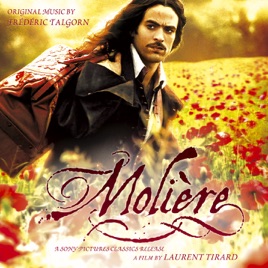 | | TITLE | | TIME |
| --- | --- | --- | --- |
| | | | |
| | Lever De Jour Et Visite Au Frère Du Roi | | |
| | | | |
| | Au chevet d'Elmire / Flashback | | |
| | | | |
| | Arrivée de Molière chez Jourdain | | |
| | | | |
| | | | |
| | Montrez-Moi Ce Que Vous Savez Faire ! | | |
| | | | |
| | | | |
| | | | |
| | | | |
| | | | |
| | Scènes de chasse / Interlude | | |
| | Jourdain rencontre Celimène | | |
| | | | |
| | Coup de théâtre chez Célimène | | |
| | Molière et Elmire pris sur le vif | | |
| | | | |
| | | | |
| | | | |
| | | | |
| | | | |
24 Songs, 58 Minutes
Released:

Feb 5, 2007

℗ 2007 Fidélité Films
Ratings and Reviews
Frederic Talgorn is a unique talent
Frederic Talgorn is a great composer and this score, although not his best, demonstrates his versatility and very strong technique. With melodies sometimes reminding us of the great Jerry Goldsmith and a thematic approach worthy of a John Williams, Frederic Talgorn has produced a very strong score. More please!
A rich, fitting score for this charming film
This soundtrack will probably not appeal to those who haven't seen the movie, but for those who have enjoyed it, Talgorn's music will bring back the spirit of this colorful and witty film. It's really not genuine "period music" for the 1660s. (If you want that, hunt down some Charpentier, who worked with Moliere.) Some cuts sound like Bach, others like Mozart or Rossini. But somehow it works. Most of the tracks feature strings, with occasional woodwind highlights, rare brass, and touches of harp, harpsichord, and celeste as needed. But what strings! This was recorded by London's Philharmonia Orchestra, and the string tone is round, rich, and deep. Listen to those double basses with the low "C" extension and the overall sound: magnifique! If you're reading this and you have NOT seen the film, do yourself a favor and rent it immediately!
Lovely, in a somewhat generic fashion
I saw and loved the film. The music is a lovely re-imaging of the French baroque sound of the era, updated to work as a film score. More evocative emotionally than something like Lully, but very pleasant to listen to.