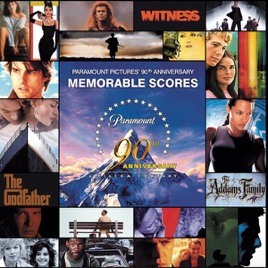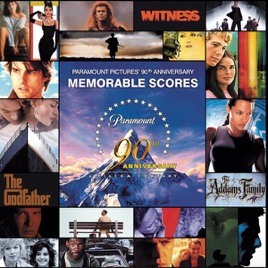 Memorable Scores (Paramount Pictures 90th Anniversary)
Various Artists
4.2, 34 Ratings

Partial Album
TITLE
TIME

Baby Elephant Walk (From "Hatari!")

Henry Mancini and His Orchestra, Orchestra & Henry Mancini

Raiders of the Lost Ark (From "Raiders of the Lost Ark")

John Williams & London Symphony Orchestra

Main Title (From "a Clear and Present Danger")

James Horner

End Credits (From "Star Trek: First Contact™")

Jerry Goldsmith

Hard to Starboard (Stereo Version) [From "Titanic"]

James Horner & Orchestra

Italia (From "the Talented Mr. Ripley")

Harry Rabinowitz & Orchestra

The Mission (From "Sum of All Fears")

Jerry Goldsmith & Shana Blake Hill

I'm Forrest...Forrest Gump (From "Forrest Gump")

Alan Silvestri, William Ross & Donny Gerrard
43 Songs, 36 Minutes
Released:

Jul 2, 2002

℗ 2002 SONY BMG MUSIC ENTERTAINMENT
Ratings and Reviews
Axel F is the catchiest instrumental song ever made
It's good! Get the album if it ever goes on sale!
Ridiculous
Love the album but why can't they sell it as a whole? I mean really they took the effort to get all the songs together but you have to but them separate.
Richy Rich Too
So WHY isn't this album sold AS an album? Money Money Money??