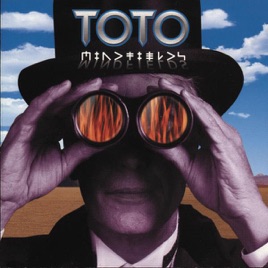 14 Songs, 1 Hour 19 Minutes
Released:

Mar 16, 1999

℗ 1999 Sony Music Entertainment Inc.
Ratings and Reviews
Mindfields celebrates the return of Singer, Bobby Kimball to Toto!
I think die-hard Toto fans will find this album invigorating!!! I think Toto has a very polished sound, with a great keyboardist in David Paich, and great guitarist in Steve Lukather!!!
I think Toto has been portrayed as an underrated band by many, unfortunately, but if you listen to this album closely, I think you'll find a good mix of hard and soft rock played with passion....
Toto better than Prince
This album rocks, It's the return of the band that I love. If you ever find yourself with tickets to see these guys go. In 1985 I turned down free tickets to see Prince in Miami when he was doing his last show on his Purple Rain Tour to see these guys. I have since seen Prince 4 times in concert but I have only seen Toto once and it was one of my favorite memories of the 80's. I will say this to Toto, Stop playing in Europe and come back to the US, I miss you.
A Long Way From Africa
In places this CD sounds reminiscent of Chicago (early Peter Cetera era) which says alot about its musical and stylistic relevance, considering that music was made a decade before this album. And when it's not old Chicago and it's not old Toto, it's a lot of other things...(Give "Spanish Steps" a listen and you'll see what I mean.)
But it's still Toto, and here's why:
1.) The lead singer is nearly unidentifiable. (If you heard it on the radio it would never occur to you that it might be Toto.) But then, it never has! Right?
2.) The songs are quite long, overall. Why is that, you ask? Well, these guys are still together making music, not because of their great vocal blend, but because they are stellar musicians with great chops. With all the instrumental breakaways, the clock keeps ticking...
3.) "Melanie" joins the ranks of their song titles dedicated to girls. (Wink.) "Melanie? Meet Pamela, Rosanna, Anna, Carmen, Holyanna..."
4.) The sound is irrelevant to 1999 or today (2007.) But as always, Toto does what Toto does. They've never seemed concerned with major commercial success (although here and there they've scored some.) You won't find this stuff on the radio or on your teenager's iPod. But Toto scores with adults! (Face it, that's a slice of the Pop market that's been ignored by the industry, and we want some not-too-progressive music to drive by too.) If you can relate, then maybe this CD is for you! (And 14 tracks is almost double what you used to get from them in one album.)
Don't worry, the Toto you know hasn't progressed too much, for all their rotating singers over the years and the sonic experimentation found here. I--for one--am a fan, and I really genuinely like having "No Love" and "Melanie" in my iPod rotation.