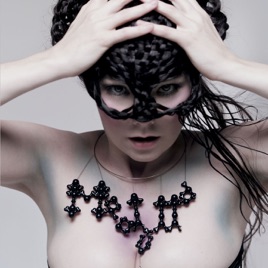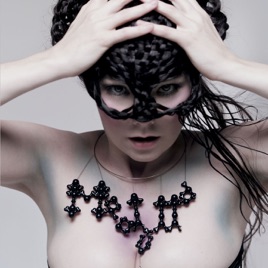 | | TITLE | | TIME |
| --- | --- | --- | --- |
| | | | |
| | | | |
| | | | |
| | | | |
| | | | |
| | Who Is It (Carry My Joy On the Left, Carry My Pain On the Right) | | |
| | | | |
| | | | |
| | | | |
| | | | |
| | | | |
| | | | |
| | | | |
| | | | |
| | | | |
15 Songs, 47 Minutes
Released:

Aug 25, 2004

℗ 2004 Atlantic Recording Corp. for the United States and Canada. All rights reserved.
Ratings and Reviews
A Solid Follow-Up
No one, NO ONE, can listen to this album without thinking it is weird. As a Bjork fan, I willingly admit that I've never heard anything like this. But weird is not always a bad thing.

Following what was Bjork's most-impressive album yet, Medulla completely leaves the chimes and pixie-esque charm that Vespertine had. This album, compsed almost solely of vocals, sounds like something Captain Piquard picked up in deep space. However, once the shock leaves, it's a curious listen.

The gothic-sounding Icelandic choir that backs up several tracks gives this album a very dark feel (that almost sounds like a throwback to Homogenic). It's not a feel-good CD. Then again, no album as good as this will make you depressed.

Overall, a solid follow-up to her previous work. This just goes to show us all that you never really know what sounds Bjork will come up with next.
Carry my joy on the left...
Medulla is many things but weird. I can't believe that it would be considered that? But I do admit it is not for everyone, especially for those who were waiting for Human Behaviour Pt. 2. This is a progression that brings us to the ultimate Bjork experience. Her voice has always been the most powerful instrument on her albums and especially live. Here we get the purity of her gift. She collaborated with choirs, beatboxers, a metal rocker and a throat singer. What we get is shear beauty in the form of Oceania, Pleasure Is All Mine and Desired Constellation. And we also get one of her most accessible songs Who Is It? which would be at home on pop radio, but thank god it's not. We get a glimpse of her politics breifly on Mouth's Cradle that climaxes with "who will build me a shelter from the Osama's and Bush's!" and a rousing choir. The album does include some moments that might be hard to listen to like Submarine and Ancestors, but in the context of the album it works. Medulla is about us, the earth and the universe. Everything stems from our bodies and reaches beyond. The final song on the U.S. CD version is Triumph of A Heart is a joyful borderline dance number about the centre of our system, the heart that gives all. And on Medulla, Bjork gives us all. The iTunes version includes the bonus track Komid a layered Bjork singing oh so magically. I also recommend the iTunes version of Vokuro, Show Me Forgiveness and Sonnets/Unrealities XI.
A dark, mature outlook through an Icelander's eyes
This album deserves Five Stars because of the creative effort put into it. Alot of the songs I disagree with, but the vast majority of them I enjoy. Bjork decided to focus on VOCALS ONLY for the entire album, so considering the medium, it's a perfect collective of the singer's creativity as well as her more mature mindset since her best selling album, 'Vespertine'. This album could even be contrived as a shallow mirror image of Vespertine, reflecting black rather than white, with a sense of truthful depth as opposed to the dream-like depth of it's predecessor. The lyrics and structure have a deeper meaning, and become much more distort, as if veiled by a translucent black cloth. After all, the album is entitled ' Medulla', which means the innermost part of a plant or animal.
I would review the whole album if it were not so long, but I'll review the jewels of the selection : Starting at about track 6, with the punch-packing, beat boxing 'Who Is It' featuring beat-boxer Rahzel, Bjork goes all out with the first single off Medulla. The song supporst the supportive frame of this album, the lyrics concerning a person who does everything for someone and what that person can do in return--not as an endentured servant, but rather a happy mutual re-payment. ( If you like this song, I suggest purchasing the second single, which features the Who Is It : Bell Choir Mix, which can be heard in the amazing video for the single. ) Two tracks later is the opus 'Desired Cinstellation', with a wapred synthesis of noise as a beat replicating the cosmos, assembled from a small loop of Bjork's voice from the Vespertine single 'Hidden Place' ( This song is technically all vocals too, if not extremely edited ) Essentially, Desired constellation is the backbone of the album, sensing the depth and cavernous feel of Medulla. The song's lyrics are also very willing and provacative, given how they are interpreted. Next comes 'Oceania' the would-be single Bjork performed at the 2004 Olympics in Athens, Greece. This piece is not only a great song, but a great video by Lynn Fox...check it out. The song illustrates a rich image of the Greek Goddess of the ocean, Oceania, who fortells the story of creation, saying that every living thing is equivelent to another, and the fact that our sweat is salty is due to our origins in the sea : 'Your sweat is salty, I am why." The song itself is a show stopper, with warped choir and an explosive vocal performed by Bjork. Sonnets/Unrealities XI is a calm track with choir, the words from a poem by the poet E.E. Cummings, Ancestors a wonderful, yet abstract track featuring the inuit throat singer, Tagaq. Mouth's Cradle, another keepsake yet still-born single, is a rebellious work that features strong beats and an aspiring choir that reaches it's apex to the words of 'I need a shelter,to build an alter, away from the Osamas and the Bushes' The track has great aspirations and all-vocal editing. Triumph of A Heart, the second single released in February 2005, has fun, spingy vocals about the function of the blood stream and heart, as well as the funtion of an organism. ( Check out the video by Spike Jonze on TOAH Single 3, or on bjork.com, it's an amazing ode to Bjork and a kitten. )The noises are also assited by the funky twirls of Japanese Dokaka's beat-bozing techniques. Komid, a track omitted from the US release but included on the Japanese album, is a virtual chorus of Bjorks' and a good album ending; as it is very soothing and calming, cultivating the full image Medulla has to offer.
Overall, the album is something good to relax to, not for heavy-duty dancing, thinking, or sing-a-long. It's just enjoyable and dark, perfect for any season, day or night. It really works, despite a few tracks strung along the album. (You may find interest in Where is the Line or the Pleasure is All Mine, both tracks I dislike, but other fans LOVE. ) The listed songs are definetly the best, but if you desire the entire Medulla expirience, purchase the whole album, as it is worth it.