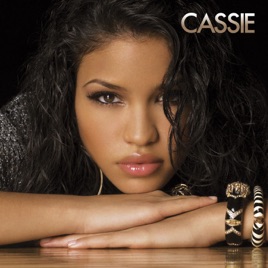 | | TITLE | | TIME |
| --- | --- | --- | --- |
| | | | |
| | | | |
| | | | |
| | | | |
| | | | |
| | | | |
| | Hope You're Behaving (Interlude) | | |
| | | | |
| | | | |
| | | | |
| | | | |
11 Songs, 35 Minutes
Released:

Aug 8, 2006

℗ 2006 Bad Boy Records, LLC for the United States and WEA International Inc. for the world excluding the United States, South America and Central Amercia.
Ratings and Reviews
It's Not That Deep
Things are definitely changing in the music business with new ways to find artist the biggest of which is the social networking site MySpace. Now I have never been to the site on account that dudes my age on the site tend to end up on Dateline NBC. But anyways. For the most part the site has catapulted bands into record contracts before they have ever played live. But now the site has its first R&B success story in Cassie who sparked a bidding war after she uploaded some demos to her space including the current hit, Me & U. Unfortunately for Cassie, Bad Boy ended up winning because Diddy is notoriously (pun intended) for not properly promoting his artists that don't change their name every six months and with his own album slated for the fall it's only going to get worse.

So to capitalize on her MySpace buzz, a self titled album was rushed to supply the demand and the rush job shows as every song on the album sound pretty much the same and Cassie's singing on Prozac sound doesn't help. She makes Rihanna's vocal stylings sound like Mariah Carey in comparison. Throw in the uber-short run time, I have EP's that are longer, and the album isn't worth it at any price. Well maybe except for free. Cassie only switches things up on Long Way to Go where she goes the Promiscuous pseudo-rap route, but comes off a lot less catchy. Cassie also brings in some other singers to duet with on Kiss You, Just One Night and What Do U Want but the nondescript dudes are just as anemic as she is.

The songs are your basic run of the mill R&B lyrics that are slightly changed to protect against plagiarism charges while the beats are barely tweaked from song to song. The only lyrics that stand out are on two songs (in not necessarily good ways). Fist there is Ditto, a song based on a cheesy movie that is probable older than Cassie herself. Then on Call U Out (what's with all the numbers and letters in the title, who does she think she is, Prince?) where she proclaims, "I'm the illest chick you ever met you know that's a fact. I'll cut you up in a minute if you made me." Whoa, slow down chica. When Carrie Underwood admitted to destroying some guy's car for cheating is understandable (see my review - Oh, There's Nothing Like Oklahoma), but can't be going around cutting dudes. That right there makes Cassie undateable. Yeah she's attractive, but I could go down to the local dormitory and find five to ten co-ed that are hotter. And there in lies the problem with MySpace (asides from the previously mentioned dudes who show up on Dateline) wherein marginally attractive chicks (or pseudo-punk bands) with no discernible talent can score a record deal just because the have enough "friends" on the site.
What is this?
I am so tired of people getting record deals due to their looks, and this is clearly one of those cases. This girls voice is so boring, and it sounds like she was asleep while recording. Is this the direction of music. Come on Bad Boy what happened?
Boring and Bad
M & U is the only song I like from Cassie. I strongly suggest you don't buy the album. It would be a total waste of money