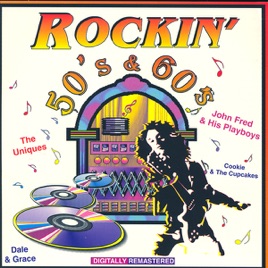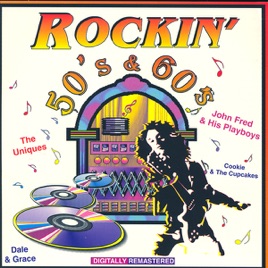 Rockin' 50's and 60's
Various Artists
TITLE
TIME

John Fred & His Playboy Band

I'm Leaving It All Up to You

Dale and Grace

John Fred & His Playboy Band

Nothing Takes the Place of You

Toussiant McCall

John Fred & His Playboy Band
12 Songs, 33 Minutes
Released:

Nov 17, 2006

℗ 2006 Jewel Records
Ratings and Reviews
Thumpper
Tracks 1-5 and 12 are correct; track 6 is Blueberry Hill (listed as 11); correct songs for tracks 7-11 are as listed sequentially in tracks 6-10. About half these are good songs, but sound quality is slightly poor. I recommend the John Fred, Dale and Grace, and Robert Parker songs. Listen before you buy, and if you buy tracks 6-11, base your selection on song you hear and corrections I mention above, not the incorrect track listings posted. If you can find these elsewhere, don't buy here.
Rockin' 50's and 60's Various Artists
I love the songs on the Album, but it takes to much time to figure out the song list that don't match with the Artist.
Mustangsallie
I'm Sorry i had to give it 1 Star
Sorry but the album listing is all wrong try redoing it and get it right, cause i wonder how many people you have scammed by having it listed wrong.