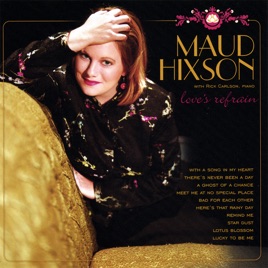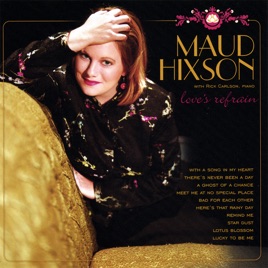 TITLE
TIME

Maud Hixson with Rick Carlson, piano

Maud Hixson with Rick Carlson, piano

Maud Hixson with Rick Carlson, piano

Meet Me At No Special Place

Maud Hixson with Rick Carlson, piano

Maud Hixson with Rick Carlson, piano

Maud Hixson with Rick Carlson, piano

Maud Hixson with Rick Carlson, piano

Maud Hixson with Rick Carlson, piano

Maud Hixson with Rick Carlson, piano

Maud Hixson with Rick Carlson, piano
10 Songs, 39 Minutes
Released:

Dec 10, 2007

℗ 2007 Maud Hixson
Ratings and Reviews
A Striking Talent
It just seems right that the name "Maud Hixson" should appear on a marquee along with the names Gershwin, Sinatra, Holiday and Fitzgerald.

What is clear--besides her wonderful voice, perfect pitch and down-to-earth presentation--is that it is suitable that she should choose to be an avatar of the best of American musical artists. In their day, channeling the music of the spheres and the voices of angels, I am sure it was hers they heard while crafting the timeless soundtrack.
oh yeah!!
When I first saw Maud live, I thought she must be old, as she carries a wisdom in her voice, that sems only to come with countles nights living with the songs. This album has been playing continuosly in my car for a week!!