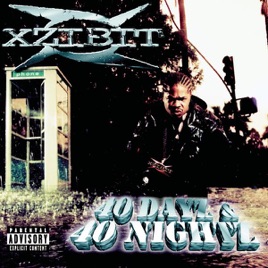 | | TITLE | | TIME |
| --- | --- | --- | --- |
| | | | |
| | | | |
| | | | |
| | | | |
| | Xzibit & Xzibit featuring Defari Herut | | |
| | | | |
| | | | |
| | Chronic Keeping 101 (Interlude) | | |
| | | | |
| | | | |
| | Jason (48 Months Interlude) | | |
| | | | |
| | | | |
| | | | |
| | Tha Alkaholiks, King T & Xzibit | | |
| | | | |
| | | | |
17 Songs, 56 Minutes
Released:

Aug 25, 1998

℗ 1998 Loud Records LLC
Ratings and Reviews
Bout TIme!
its about frickin time that itunes got with the program and included this all-time classic album in it's library. this was the last of X's independant albums before he started runnin with eminem and dre with "Ruthless". Although he experienced more commercial success with those collaborations, this is the album where X perfected his craft. In the previous album "At the Speed of Life" he came with the raw grittiness that would come to define his Rap artist persona, but here is where he experiments with a wider variety of beats, humor, and other artists and to great results. This was LA in the 90s. While the rest of the world was getting caught up in the hype of swag and riches as personafied by Puffy and others, X was repping that grittyness that everyday folk were strugglin thru. X pulled this off at a Wu Tang level and anyone that misses that hardcore, gritty get-down should grab this!
LYRIX!!!
What he said " At The Speed Of Life" he snapped on Paparazzi there's no way that album isn't dope!!!

I could bump this one for 40dayz......
xzibit
his best album u got the best beats ever in this album with hits like let it rain and what u see is what u get....awesome album!