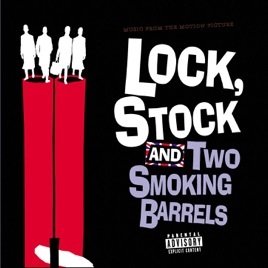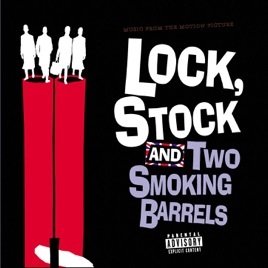 Lock, Stock and Two Smoking Barrels (Music from the Motion Picture)
Various Artists
18 Songs, 41 Minutes
Released:

Feb 23, 1999

℗ 1999 Maverick Records Produced Under License From SKA Productions
Ratings and Reviews
This is great BUT...
Where is the "Snatch" soundtrack? I don't understand how iTunes picks what albums they put on here and what albums they don't. I mean... Lock, Stock but no Snatch? I don't get it. Can someone from Apple explain this to me?
18 With a Bullet
After seeing "Lock Stock and Two Smoking Barrels" (again), the song "18 With a Bullet", which played during the credits, struck me as a must have. I can't say that I have any idea who Pete Wingfield is (was), but it surely must be a classic. Since eyeToons won't sell just the song, I am the proud new owner of the movie's entire soundtrack. There are a couple of classic James Brown tunes, a few from what must be indie artists, Zorba the Greek, and some funny lines from the movie. Kinda like buying a grab bag. All in all I think it was worth it.
Worth $10 for Dusty alone
I downloaded the entire album because it was the only way of getting Dusty Springfield's definitive version of "Spooky". As far as I know this is currently the only known legal source of this track on the planet. Gettting some good James Brown, Junior Murvin and some entertaining snippets of dialog from the movie is a bonus. Plus I've not heard that Pete Wingfield song since I was 15.......