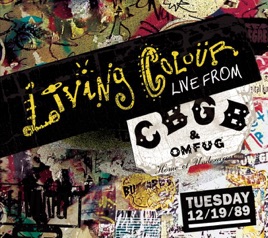 EDITORS' NOTES
Living Colour were a top-notch group of virtuoso musicians who'd made the decision to play hard rock with a background in funk. Their appearances in New York City were noted for their intensity, and the legendary club CBGB on Bowery was just the place to capture their madness. The venue was tiny, and by Dec. 19, 1989—a year and a half after the release of LC's debut album, Vivid—it could've been sold out several hundred times over. The original band (with bassist Muzz Skillings) is in top form here, and they plow through four songs from their debut ("Cult of Personality," "Funny Vibe," "Open Letter to a Landlord," "Middle Man"), six tracks from the yet-to-be released follow-up, Time's Up, and three songs that never appeared on a Living Colour studio album: "Soldier's Blues," "Little Lies," and a cover of the Bad Brains classic "Sailin' On."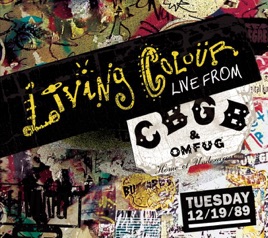 EDITORS' NOTES
Living Colour were a top-notch group of virtuoso musicians who'd made the decision to play hard rock with a background in funk. Their appearances in New York City were noted for their intensity, and the legendary club CBGB on Bowery was just the place to capture their madness. The venue was tiny, and by Dec. 19, 1989—a year and a half after the release of LC's debut album, Vivid—it could've been sold out several hundred times over. The original band (with bassist Muzz Skillings) is in top form here, and they plow through four songs from their debut ("Cult of Personality," "Funny Vibe," "Open Letter to a Landlord," "Middle Man"), six tracks from the yet-to-be released follow-up, Time's Up, and three songs that never appeared on a Living Colour studio album: "Soldier's Blues," "Little Lies," and a cover of the Bad Brains classic "Sailin' On."
| | TITLE | | TIME |
| --- | --- | --- | --- |
| | | | |
| | | | |
| | | | |
| | | | |
| | | | |
| | | | |
| | | | |
| | | | |
| | | | |
| | Open Letter to a Landlord | | |
| | | | |
| | | | |
| | | | |
13 Songs, 1 Hour 6 Minutes
Released:

Jan 11, 2005

℗ 2005 Sony BMG Music Entertainment
Ratings and Reviews
Killer
if you like living colour, you have got to buy this, its the real deal !!!
Awesome live rock from a unique band
Way better set list than their greatest hits, that's for sure... This is a raw, unfiltered, un-fixed, LIVE performance. It's messier but crazier. Living Colour freaking rules.
Works for me
This is a great live set with noticably better iTunes sound quality than their "Biscuits" EP. While the solo in "Cult" is way better on the "Say Anything" Soundtrack, most of this stuff is just flat out great! This band was already bigger than CBGB when this was played, so it's refreshing for me, both to know that they did this sort of thing, and for them to swallow their "Pride" and release it. I'm sure they've played better sets, but this sounds great for a live club recording, and thanks for making it available!