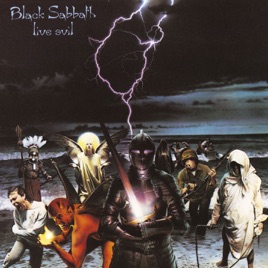 EDITORS' NOTES
Though it precipitated the ousters of Ronnie James Dio and Vinny Appice, Live Evil remains one of the great documents of the Sabbath live machine in action. Though the exact whereabouts of the performances are unknown, it's clear that the recordings are taken from the band's 1982 tour of America, in support of Mob Rules. The sonic quality is raw and in your face, and the band roars like a well-tuned engine. Along with vigorous interpretations of Dio-led classics like "Neon Knights," "Voodoo," and "The Mob Rules," it's astonishing to see this lineup apply itself to Sabbath standards from the Ozzy era. The primary difference is in the drums. Whereas original drummer Bill Ward treated the doom-metal riffs with a touch of swing, Appice was all about unmitigated battery. Therefore, these versions of "Black Sabbath," "War Pigs," and "Iron Man" are less likely to coax you into a trance and more likely to remind you of the awesome power of a martial artist. A rock god if ever there was one, Dio shows his command of the stage with an extended call-and-response medley of "Heaven and Hell" and "The Sign of the Southern Cross."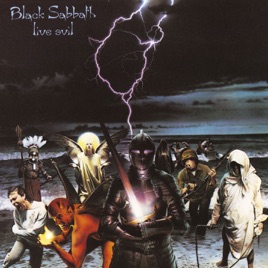 EDITORS' NOTES
Though it precipitated the ousters of Ronnie James Dio and Vinny Appice, Live Evil remains one of the great documents of the Sabbath live machine in action. Though the exact whereabouts of the performances are unknown, it's clear that the recordings are taken from the band's 1982 tour of America, in support of Mob Rules. The sonic quality is raw and in your face, and the band roars like a well-tuned engine. Along with vigorous interpretations of Dio-led classics like "Neon Knights," "Voodoo," and "The Mob Rules," it's astonishing to see this lineup apply itself to Sabbath standards from the Ozzy era. The primary difference is in the drums. Whereas original drummer Bill Ward treated the doom-metal riffs with a touch of swing, Appice was all about unmitigated battery. Therefore, these versions of "Black Sabbath," "War Pigs," and "Iron Man" are less likely to coax you into a trance and more likely to remind you of the awesome power of a martial artist. A rock god if ever there was one, Dio shows his command of the stage with an extended call-and-response medley of "Heaven and Hell" and "The Sign of the Southern Cross."
| | TITLE | | TIME |
| --- | --- | --- | --- |
| | | | |
| | | | |
| | | | |
| | Children of the Sea (Live) | | |
| | | | |
| | | | |
| | | | |
| | | | |
| | | | |
| | | | |
| | The Sign of the Southern Cross / Heaven and Hell (Live) | | |
| | | | |
| | Children of the Grave (Live) | | |
| | | | |
14 Songs, 1 Hour 22 Minutes
Released:

Dec 1, 1982

℗ 1989 Warner Records Inc., marketed by Rhino Entertainment Company, a Warner Music Group company
Ratings and Reviews
CLEARLY better than Ozzy
Even in Ozzy's best days he couldn't touch the vocal capabilites of Dio. Don't get me wrong, I do like Ozzy, but Sabbath with Ronnie James just sounds better. The only song I don't like Dio singing on is War Pigs. I would have to say that War Pigs can only be sung by Ozzy. The rest is best with R.J.D.!
Sorry to disagree
In my opinion, Dio is a much better metal singer than Ozzy. I challenge any reader to go listen to the Reuinon version and this version of Paranoid, and tell me who did the song more justice. Ozzy is a drug-addict, foulmouth, psycopathic, attempted murderer who really has a hard time hitting a pitch both in and out of the studio. Dio has a better vocal range, and a deeper heavyer voice. Ozzy's is fairly nasaly and can get on my nerves after a while.
Geezer rocks.
Great!
1st Review!!!!!! Black Sabbath Rocks!!!!!! "Paranoid" Rocks along with "War Pigs" and "Iron Man!"