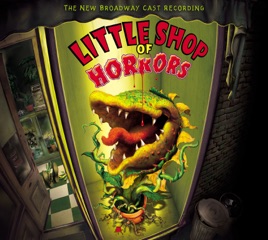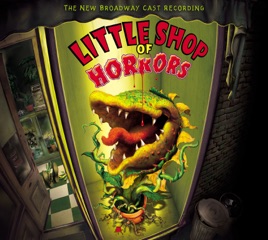 Little Shop of Horrors (Broadway Cast Recording)
Alan Menken
TITLE
TIME

Prologue / Little Shop of Horrors

Alan Menken

Somewhere That's Green (Reprise)

Alan Menken

Finale Ultimo (Don't Feed the Plants)

Alan Menken
27 Songs, 1 Hour 18 Minutes
Released:

Dec 31, 1985

℗ 2003 DRG RECORDS
Ratings and Reviews
A GOOD review from a harsh critic
Whenever I see that one of my all time favorite pieces of theatre is being revived and released on CD, I am always optimistic that any changes that have been made will make the piece sharper, more focused, and allow the artists to re-create their roles with fresh interpretations. Happily, this is the case with much of the new recording of Little Shop of Horrors.
First, what hasn't changed; not much has been added to the score itself. A few bits which were in the Original Broadway Production but not on it's CD have been added. ("Call Back in the Morning" as well as an expanded "Mushnik and Son".) The bridge to the title song (used in the film) has been added to this Broadway score, which I like. Most of the organ has been replaced with brass, which I am not sure if I like, but it adds a bit of pop to things.

The portrayal of Seymour varies little from that which is heard on the Original Broadway Cast Recording. Hunter Foster does, as the New York reviews said, have a very nice voice indeed, and his characterization is nice... it's just the same.

For the new things: Kerry Butler gives a surprisingly good performance as Audrey here. Much more grounded in reality than Ellen Greene, while still maintaining that SCI-FI fairy tale feel. She makes Audrey more of a real person rather than just capitalizing on a unique character voice... and what a voice!! A remarkable mix of sweetness and power that make her tracks a joy.

I like the Doo-Wop girls a lot here, and I think they were sleighed by their recording technicians. The opening recording sounds very sparse and flat compared to the previous recording, but it is definitely not their voices. I think the recording is to blame, as well as a bit of monkeying around with the arrangement of the harmonies. A bit of work could have made them sound as full as I am sure they do in real life. The rest of their songs, including "Ya Never Know" and "The Meek Shall Inherit" are done well, and are very cool.

Mushnik and the Dentist give excellent performances here as well. Mushnik's voice is strong and clear without that false "Mushnik" character voice that is so commonly heard in the role. Orin (the Dentist) is very good here too, meeting the challenge of doing the role justice without imitating Steve Martin.

The demo tracks here are a great treasure to find, including Alan Menkin performing "A Little Dental Music", a song Seymour sings with the "Muzak" playing in the dentist's waiting room. Such a beautiful melody.

There are parts of this recording that I wish had more "kick". Sharper percussion, maybe, or just slightly more focused timing. Overall, there are tracks here that are not as good as the versions on other recordings, but, and this is my big but, there are tracks that are better, and will stand (for a while anyway)as definitive. Well done.

Oh Boy, This was some good times.
I was Mr. Mushnik in high school musical along time ago. A 17 year old boy, born and raised in a very rural community found myself in a role acting as a late 50s Jewish man. Mr. Mushnik was one of the best roles I have played. Man makes jokes, does a little song and dance, dies in a very dramatic way... The music on this album is an amazing piece of theatre history. Good times were made with these songs oh many good times... Thank you Apple for making this album an easy access for many others to enjoy. ~ Jimmy R.
Why choose? Pick this one?
If you have to choose between the Off-Broadway recording and this one, it should never cross your mind to pick the former. The singing and orchestra are miles ahead of the original recording, and the extra songs (including one from the movie with the original Audrey II, Ron Taylor) aren't half bad either. There's no reason to choose the original over this.