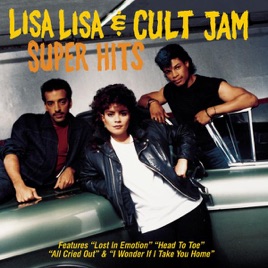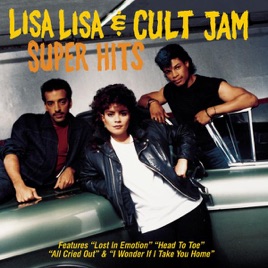 TITLE
TIME

I Wonder If I Take You Home

Lisa Lisa & Cult Jam, Full Force, Cult Jam & Lisa Lisa

Lisa Lisa & Cult Jam & Full Force

Little Jackie Wants to Be a Star

Lisa Lisa & Cult Jam & Cult Jam

U Never Nu How Good U Had It

Someone to Love Me for Me
10 Songs, 52 Minutes
Released:

Aug 26, 1997

℗ 1985, 1987, 1989, 1991, 1997 Sony Music Entertainment Inc. WARNING: All rights reserved. Unauthorized duplication is a violation of applicable laws.
Ratings and Reviews
What happened to LISA?
With a great voice like that and hits. Why nothing now? Am I the only person who wonders why Lisa is not singing any more? Steve Perry of journey i think of in the same way. Are record companys so bad that they forget all the people who made them money in the past. The age of cd stores is comming to a close so the overhead thing is done.BRING BACK THE BIG TALENT.
Love Lisa Lisa & Cult Jam
"Let the Beat Hit 'em" Is one of the greatest songs ever. I remember flipping out when they would play it at the clubs. It was THE JAM and always be one of the best. "the beat goes round and round and up and down.....1..2...3....BASS! L.L. Get FUNKY!!!" (They could have picked a better clip than they did, though...).
Ya Gotta Love Lisa Lisa
I Wonder if I take you home is a classic! These songs take me back to the roller rink. Yo, mash-up DJ's, add this to your mix at your next party. Watch the 30-somethings perk up!