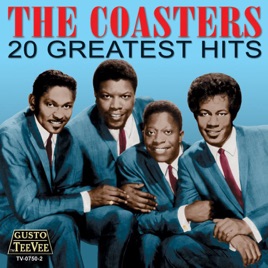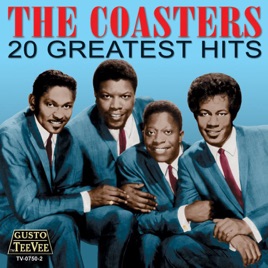 20 Songs, 55 Minutes
Released:

Dec 31, 1986

℗ 2006 Gusto Records, Inc., Nashville, Tennessee
Ratings and Reviews
REVIEWED BY "THUNDERBIRD"-THE COASTERS-20 GREATEST HITS
ALTHOUGH NOT "GARBAGE," AS STATED BY ANOTHER REVIEWER, BUT I DON''T THINK A TRUE COASTERS FAN WOULD LIKE SOME OF THE UP-BEAT VERSIONS THAT THE "NEW" COASTERS HAVE RECORDED ON THIS ALBUM. I WOULD RECOMMEND LISTENING TO ALL OF THE SONGS BEFORE PURCHASING ANY, OR THE COMPLETE ALBUM.
SIGNED: A PASSIONATE ROCK N ROLL FAN
Garbage
DON'T GET THIS ALBUM. These are not the orignal hits but a bunch of re-recordings, without the classic feel. Most of the original members have died before these recordings. It is a complete rip-off. I HATE refried oldies.
The Coasters: 1966--1971 & The 1977 Re-recordings
This album is for those who already have the Coasters' hit songs & wish to dig deeper into their post 1965 career. Many people may not realize the group still consisted of the original members at this time, & they continued their recording career into the early 1970s.

"Charlie Brown," Searchin', "Young Blood," "Along Came Jones," "Yakety Yak," "Poison Ivy," & "Little Egypt" are all 1977 re-recordings that only feature 2 original Coasters: lead singer Billy Guy & bass singer Dub Jones. "One Foot Draggin' was also cut at these sessions, but it's actually a new song. I would recommend getting the original versions.

For the rest of the cd, the songs are original recordings from 1966--1971. All of these sessions were produced by Leiber & Stoller, featuring piano by Stoller, & they also wrote some of the songs. During these years, The Coasters found themselves in changing musical tastes, & they couldn't get a hit.

"Soul Pad" & "Down Home Girl" are the oldest songs, dating from November 1966.

Next, "Talkin' Bout A Woman," "Mohair Sam," "Everybody's Woman," & "D.W. Washburn" were recorded in October 1967. "D.W. Washburn was recorded by The Coasters first but withheld. The Monkees then had the hit version.

"Down At Papa Joe's" is a really party, up-tempo song dating from Feb. 1968. "Love Potion #9" was also recorded then; however, it was later overdubbed in fall 1971, where it was then released as a single. It became The Coasters' final charting single, reaching #76 Pop.

During those same 1971 sessions, The Coasters recorded their versions of "On Broadway," "The In-Crowd," "Mustang Sally," & "Cool Jerk." These became the final sessions produced by Leiber & Stoller.