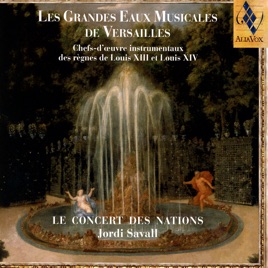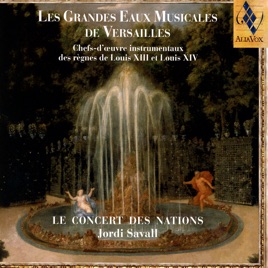 TITLE
TIME

Prélude Des Trompettes Et Autres Instruments Pour Mars (Lully)

Le Concert Des Nations, Jordi Savall

Les Hommes Et Femmes Armés (Lully)

Le Concert Des Nations, Jordi Savall

Bourrée Du Divertissement de Chambord (1669) (Lully)

Le Concert Des Nations, Jordi Savall

Bourrée Du Mariage Forcé (1664) (Lully)

Le Concert Des Nations, Jordi Savall

Chaconne de L'Amour Médecin (1665) (Lully)

Le Concert Des Nations, Jordi Savall

Menuet Pour Les Trompettes (Lully)

Le Concert Des Nations, Jordi Savall

Concert À Deux Violes Esgales "Le Retour" (Sainte-Colombe)

Le Concert Des Nations, Jordi Savall

Pavane Pour la Petitte Guaire (L'Aisne)

Le Concert Des Nations, Jordi Savall

Gaillarde, en Suitte (L'Aisne)

Le Concert Des Nations, Jordi Savall

Pavane Fait Au Mariage de Mr. Vandosme en 1609 (L'Aisne)

Le Concert Des Nations, Jordi Savall

Bourrée D'Avignonez (L'Aisne)

Le Concert Des Nations, Jordi Savall

Ballet a Cheval Pour Le Grand Carousel, Fait a la Place Royale Pour Le Mariage de Louis XIII, 1615 (L'Aisne)

Le Concert Des Nations, Jordi Savall

Intrada - Gavotte - Sarabande (Anonyme)

Le Concert Des Nations, Jordi Savall

Marche Pour Les Hautbois (Dumanoir)

Le Concert Des Nations, Jordi Savall

Le Concert Des Nations, Jordi Savall

Le Concert Des Nations, Jordi Savall

Le Concert Des Nations, Jordi Savall

Sarabandes & Tambourin (Anonyme)

Le Concert Des Nations, Jordi Savall

Rondeau Champetre (II. 104) (Marais)

Le Concert Des Nations, Jordi Savall

Muzettes I-II (IV. 28.29) (Marais)

Le Concert Des Nations, Jordi Savall

Passacaille (II. 105) (Marais)

Le Concert Des Nations, Jordi Savall

Marche Des Combattans en Rondeau (Alceste) (Lully)

Le Concert Des Nations, Jordi Savall

Le Concert Des Nations, Jordi Savall

Marche Pour la Cérémonie Turque (Le Bourgeois Gentilhomme) (Lully)

Le Concert Des Nations, Jordi Savall

Le Concert Des Nations, Jordi Savall

Rondeau Pour la Fête Marine (Alceste) (Lully)

Le Concert Des Nations, Jordi Savall

Marche Des Assiégeants (Alceste) (Lully)

Le Concert Des Nations, Jordi Savall

Prélude Du 2e Concert (Couperin)

Le Concert Des Nations, Jordi Savall

Muzette Du 3e Concert (Couperin)

Le Concert Des Nations, Jordi Savall

Forlane Du 4e Concert (Couperine

Le Concert Des Nations, Jordi Savall

Chaconne D'Alcione (Marais)

Le Concert Des Nations, Jordi Savall
31 Songs, 1 Hour 17 Minutes
Released:

Jan 1, 2005

℗ 2005 Alia Vox
Ratings and Reviews
Great early/Baroque music
French Baroque music actually falls on the cusp between Renaissance and Baroque music. Anyone interested in either style will enjoy this album immensely. Savall is a superb musician and conductor who has recorded French, Spanish, German, Turkish, Balkan, and many other kinds of music. This collection of pieces written for Louis XIV is full of pomp, yet lively — a perfect evocation of the era.
A French Baroque confection
A gorgeous collection of pieces from the reign of the Sun King! Savall's Le Concert des Nations has a nice incisive sound but still maintains some of the rustic, and colourful character that's needed in French Baroque music. Particular favorite tracks are Marin Marais' 'Charivary' and the Chaconne from 'Alcyone.' I'd say this recording is a must-have for any enthusiast of French Baroque music.