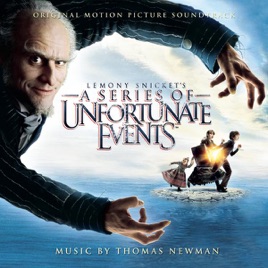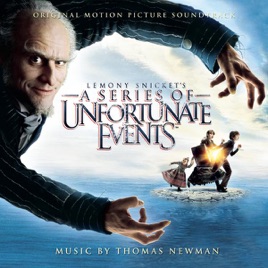 Lemony Snicket's A Series of Unfortunate Events (Original Motion Picture Soundtrack)
Thomas Newman
TITLE
TIME

Thomas Newman, Bill Bernstein, Rick Cox, George Doering, Michael Fisher, Frank Marocco, Oliver Schroer, Steve Tavaglione & Steve Kujala

Thomas Newman, Bill Bernstein, Rick Cox, George Doering, Michael Fisher, Frank Marocco, Oliver Schroer, Steve Tavaglione & Steve Kujala

Thomas Newman, Bill Bernstein, Rick Cox, George Doering, Michael Fisher, Frank Marocco, Oliver Schroer, Steve Tavaglione & Steve Kujala

Thomas Newman, Bill Bernstein, Rick Cox, George Doering, Michael Fisher, Frank Marocco, Oliver Schroer, Steve Tavaglione & Steve Kujala

Thomas Newman, Bill Bernstein, Rick Cox, George Doering, Michael Fisher, Frank Marocco, Oliver Schroer, Steve Tavaglione & Steve Kujala

Thomas Newman, Bill Bernstein, Rick Cox, George Doering, Michael Fisher, Frank Marocco, Oliver Schroer, Steve Tavaglione & Steve Kujala

An Unpleasant Incident Involving a Train

Thomas Newman, Bill Bernstein, Rick Cox, George Doering, Michael Fisher, Frank Marocco, Oliver Schroer, Steve Tavaglione & Steve Kujala

Thomas Newman, Bill Bernstein, Rick Cox, George Doering, Michael Fisher, Frank Marocco, Oliver Schroer, Steve Tavaglione & Steve Kujala

Thomas Newman, Bill Bernstein, Rick Cox, George Doering, Michael Fisher, Frank Marocco, Oliver Schroer, Steve Tavaglione & Steve Kujala

Curious Feeling of Falling

Thomas Newman, Bill Bernstein, Rick Cox, George Doering, Michael Fisher, Frank Marocco, Oliver Schroer, Steve Tavaglione & Steve Kujala

Regarding the Incredibly Deadly Viper

Thomas Newman, Bill Bernstein, Rick Cox, George Doering, Michael Fisher, Frank Marocco, Oliver Schroer, Steve Tavaglione & Steve Kujala

Thomas Newman, Bill Bernstein, Rick Cox, George Doering, Michael Fisher, Frank Marocco, Oliver Schroer, Steve Tavaglione & Steve Kujala

Thomas Newman, Bill Bernstein, Rick Cox, George Doering, Michael Fisher, Frank Marocco, Oliver Schroer, Steve Tavaglione & Steve Kujala

Concerning Aunt Josephine

Thomas Newman, Bill Bernstein, Rick Cox, George Doering, Michael Fisher, Frank Marocco, Oliver Schroer, Steve Tavaglione & Steve Kujala

Thomas Newman, Bill Bernstein, Rick Cox, George Doering, Michael Fisher, Frank Marocco, Oliver Schroer, Steve Tavaglione & Steve Kujala

Thomas Newman, Bill Bernstein, Rick Cox, George Doering, Michael Fisher, Frank Marocco, Oliver Schroer, Steve Tavaglione & Steve Kujala

Thomas Newman, Bill Bernstein, Rick Cox, George Doering, Michael Fisher, Frank Marocco, Oliver Schroer, Steve Tavaglione & Steve Kujala

Thomas Newman, Bill Bernstein, Rick Cox, George Doering, Michael Fisher, Frank Marocco, Oliver Schroer, Steve Tavaglione & Steve Kujala

Thomas Newman, Bill Bernstein, Rick Cox, George Doering, Michael Fisher, Frank Marocco, Oliver Schroer, Steve Tavaglione & Steve Kujala

The Regrettable Episode of the Leeches

Thomas Newman, Bill Bernstein, Rick Cox, George Doering, Michael Fisher, Frank Marocco, Oliver Schroer, Steve Tavaglione & Steve Kujala

Thomas Newman, Bill Bernstein, Rick Cox, George Doering, Michael Fisher, Frank Marocco, Oliver Schroer, Steve Tavaglione & Steve Kujala

Thomas Newman, Bill Bernstein, Rick Cox, George Doering, Michael Fisher, Frank Marocco, Oliver Schroer, Steve Tavaglione & Steve Kujala

Thomas Newman, Bill Bernstein, Rick Cox, George Doering, Michael Fisher, Frank Marocco, Oliver Schroer, Steve Tavaglione & Steve Kujala

Thomas Newman, Bill Bernstein, Rick Cox, George Doering, Michael Fisher, Frank Marocco, Oliver Schroer, Steve Tavaglione & Steve Kujala

Attack of the Hook-Handed Man

Thomas Newman, Bill Bernstein, Rick Cox, George Doering, Michael Fisher, Frank Marocco, Oliver Schroer, Steve Tavaglione & Steve Kujala

Thomas Newman, Bill Bernstein, Rick Cox, George Doering, Michael Fisher, Frank Marocco, Oliver Schroer, Steve Tavaglione & Steve Kujala

Thomas Newman, Bill Bernstein, Rick Cox, George Doering, Michael Fisher, Frank Marocco, Oliver Schroer, Steve Tavaglione & Steve Kujala

The Letter That Never Came

Thomas Newman, Bill Bernstein, Rick Cox, George Doering, Michael Fisher, Frank Marocco, Oliver Schroer, Steve Tavaglione & Steve Kujala

Thomas Newman, Bill Bernstein, Rick Cox, George Doering, Michael Fisher, Frank Marocco, Oliver Schroer, Steve Tavaglione & Steve Kujala
29 Songs, 1 Hour 8 Minutes
Released:

Dec 3, 2004

℗ 2004 SONY BMG MUSIC ENTERTAINMENT
Ratings and Reviews
I Love This Album! (and I'm not joking...)
This album is so good! Thomas Newman is amazing. This music reminds me of the movie so much. It's dark yet cheerful at the same time, if that makes any sense. I don't know how he does it, but he does. I highly recomend this album, all the songs are great. As to the other person who commented: why did you write a review about an album you've never even listened to and criticize an entire genre of music that you have proabably never appreciated?!? Do you know how important music is to movies? It's more than just "background music", but adds to the entire mood of the movie!
A lovely soundtrack.
I want to start out by saying that this was snubbed for the Oscar by Finding Neverland. Thomas Newman is WAY overdue for an Oscar win. "VFD", "The Letter that Never Came", and "Drive Away" are phenomenal. Anyway, the 1 star review on here is bogus. The guy didn't even seem to get the concept of a soundtrack. The varying themes and instruments make this an beautiful and eclectic album. Must have.
FINALLY!!
For the past year, i've been waiting for itunes to add this soundtrack, and i finally own it! the #1 fall out girl, obviously doesnt get the concept of backround music, and shouldnt make public comments about things she clearly knows nothing about. =] any way, this is a kickass cd, so buy it