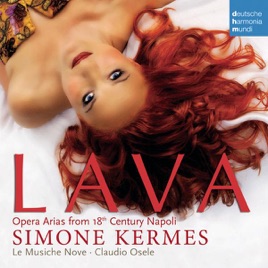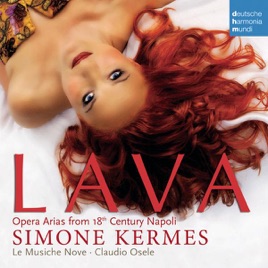 TITLE
TIME

L'Olimpiade: Tu Me Da Me Dividi (Aria Di Aristea. Atto II, Scena 9.)

By Giovanni Battista Pergolesi

Lucio Papirio: Morte Amara (Aria Di Quinto Fabio. Atto II, Scena 10.)

By Nicola Antonio Porpora

Flavio Anicio Olibrio: Se Non Dovesse Il Pie' (Aria Aggiunta/Insertion Aria/Einlagearie)

By Nicola Antonio Porpora

Artaserse: Fra Cento Affanni e Cento (Aria Di Arbace. Atto I, Scena 2.)

By Leonardo Vinci

Il Demetrio: Manca Sollecita (Aria Di Cleonice. Atto III, Scena 1.)

By Leonardo Leo

Viriate: Come Nave In Mezzo All'Onde (Aria Di Siface. Atto II, Scena 4.)

By Johann Adolf Hasse

Adriano In Siria: Lieto Così Talvolta (Aria Di Farnaspe. Atto I, Scena 16.)

By Giovanni Battista Pergolesi

Antigono: Perché Se Tanti Siete (Aria Di Berenice. Atto III, Scena 7.)

By Johann Adolf Hasse

Artaserse: No! Che Non Ha la Sorte... Vo Solcando un Mar Crudele (Recitativo E Aria Di Arbace. Atto I, Scena 15.)

By Leonardo Vinci

Lucio Papirio: Tocco Il Porto (Aria Di Quinto Fabio. Atto III, Scena 6.)

By Nicola Antonio Porpora

Didone Abbandonata: Tu Dici Ch'Io Non Speri... L'Augelletto In Lacci Stretto (Recitativo E Aria Di Araspe. Atto II, Scena 4.)

By Johann Adolf Hasse

L'Olimpiade: Mentre Dormi Amor Fomenti (Aria Di Licida. Atto I, Scena 9.)

By Giovanni Battista Pergolesi
12 Songs, 1 Hour 16 Minutes
Released:

Aug 6, 2009

℗ 2009 SONY MUSIC ENTERTAINMENT SWITZERLAND GmbH
Ratings and Reviews
Another Treat!
All of the selections featured here are of interest to lovers of beautiful music and wonderful singing - don't be dissuaded by the lack of familiar items. Kermes and Osele have programmed pieces that give an excellent picture of Neopolitan taste in their opera seria during the first half of the eighteenth century. Despite the common description of Kermes as a "dramatic coloratura" soprano, I hear the voice here as rather light and smallish, much better suited to the expressive cantabile selections (Tk. 7 is an especially lovely example) rather than the florid ones. The voice can move, but it is in several of these moments that it loses some of its focus and accuracy. Her ornamentation tends toward the chaste, but it also sounds stylish and idiomatic. That said, even though she cannot compare in fluency to singers like Cecilia Bartoli (or even Vivica Genaux), her singing is commendable in other respects. She is able to color her mostly monochromatic sound most expressively, and she animates the recitatives and the words in the arias in vivid and memorable ways. The top of the voice is the most interesting part (she is able to use the float of the voice most effectively), but the low range is weak and occasionally forced. These reservations are rather small in comparison with the many delights this recording offers. The accompanying digital booklet is helpful for texts, although the notes are fairly generic. Definitely worth it if you're feeling adventurous!
A Surprisingly Entertaining Collection
I like opera but tend to lean toward more modern examples. And so I was pleasantly surprised by the variety of music on this album and the interest it held for me. Simone Kermes is exceptional and her range is stunning. Most importantly is the range of emotion she presents in a musical genre that could in lesser hands have become dull and monotonous. Instead, each new recitative and aria presents her with another opportunity to showcase both her voice and the amazing talents of the composers presented here. I highly recommend this album to anyone who likes opera and its interpreters. You will not be disappointed.