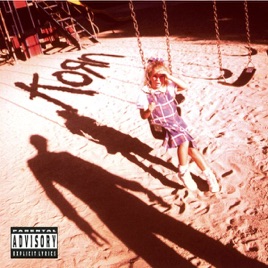 EDITORS' NOTES
Korn's 1994 debut introduced their thuggish yet sophisticated take on nu-metal. Between David Silveria's syncopated drumming and the band's adventurous merging of rap and metal, tracks like "Fake" and "Helmet in the Bush" change direction in a heartbeat. Glowering frontman Jonathan Davis is at once melodic and cathartic (especially on the overdriven opener "Blind"), and revels in his uncanny vocal range. But no matter what alchemy is at work, sheer intensity wins out—even amid the familiar nursery rhymes on "Shoots and Ladders."
EDITORS' NOTES
Korn's 1994 debut introduced their thuggish yet sophisticated take on nu-metal. Between David Silveria's syncopated drumming and the band's adventurous merging of rap and metal, tracks like "Fake" and "Helmet in the Bush" change direction in a heartbeat. Glowering frontman Jonathan Davis is at once melodic and cathartic (especially on the overdriven opener "Blind"), and revels in his uncanny vocal range. But no matter what alchemy is at work, sheer intensity wins out—even amid the familiar nursery rhymes on "Shoots and Ladders."
12 Songs, 1 Hour 5 Minutes
Released:

Oct 11, 1994

℗ 1994 Sony Music Entertainment Inc.
Ratings and Reviews
amazingly creepy
this is one of the best debuts for one of the best and most profound bands ever. Daddy is the most messed up song ever, but it's still a good jam, it's extra creepy because it's true. Korn needs to quit the new dub-step crap and get back to basics like this, or the will lose alot of fans.
Still Remains as Korn's Best
Amazing, Raw Emotion in every single song. This is the Best Korn Album (In My Opinion) So Full of Emotion
Maybe their only real good album
Blind is a fantastic tune. Most of this album is good. Unfortunately Korn is otherwise a schlock nu mental band. The bagpipes at the end are especially nice. This might be the only real good release they ever put out.