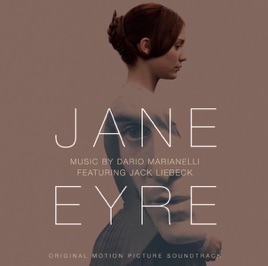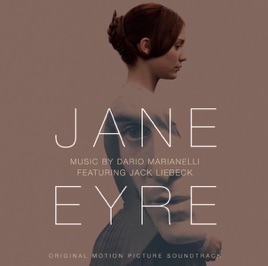 Jane Eyre (Original Motion Picture Soundtrack) [feat. Jack Liebeck]
Dario Marianelli
| | TITLE | | TIME |
| --- | --- | --- | --- |
| | Wandering Jane (feat. Jack Liebeck & Jack Liebeck) | | |
| | A Thorough Education (feat. Jack Liebeck & Jack Liebeck) | | |
| | Arrival At Thornfield Hall (feat. Jack Liebeck & Jack Liebeck) | | |
| | The End of Childhood (feat. Jack Liebeck & Jack Liebeck) | | |
| | White Skin Like the Moon (feat. Jack Liebeck & Jack Liebeck) | | |
| | A Game of Badminton (feat. Jack Liebeck & Jack Liebeck) | | |
| | In Jest or Earnest (feat. Jack Liebeck & Jack Liebeck) | | |
| | Do You Never Laugh, Miss Eyre? (feat. Jack Liebeck & Jack Liebeck) | | |
| | A Restless Night (feat. Jack Liebeck & Jack Liebeck) | | |
| | Waiting for Mr. Rochester (feat. Jack Liebeck & Jack Liebeck) | | |
| | Yes! (feat. Jack Liebeck & Jack Liebeck) | | |
| | Mrs. Reed Is Not Quite Finished (feat. Jack Liebeck & Jack Liebeck) | | |
| | The Wedding Dress (feat. Jack Liebeck & Jack Liebeck) | | |
| | An Insuperable Impediment (feat. Jack Liebeck & Jack Liebeck) | | |
| | Jane's Escape (feat. Jack Liebeck & Jack Liebeck) | | |
| | Life On the Moors (feat. Jack Liebeck & Jack Liebeck) | | |
| | The Call Within (feat. Jack Liebeck & Jack Liebeck) | | |
| | Awaken (feat. Jack Liebeck & Jack Liebeck) | | |
| | My Edward and I (feat. Jack Liebeck & Jack Liebeck) | | |
19 Songs, 44 Minutes
Released:

Mar 8, 2011

℗ 2011 Focus Features under exclusive license to Sony Music Entertainment UK Limited
Ratings and Reviews
Exquisite
I bought this soundtrack the night before I saw the film. At first, I thought Marianelli's score was exquisite without seeing the movie. However, when I saw the film, I enjoyed the score even more. My personal favorites are "Do you ever laugh Miss Eyre?," "Yes!," "Wandering Jane," "Life on the Moors," "White Skin like the Moon," and "Awaken." I listened to this soundtrack countless times and watched the film twice within two days. Either way, the score and film is a masterpiece. When the time for Oscar nominations comes around, I hope the committee will not pass up Marianelli for his wonderful work.
Amazing!
The music is amazing something classic is what this world needs instead nasty things
A Gem!
Dario Marianelli's Jane Eyre is so far this year's finest score. It gave me chills and this rarely happens...it made me cry (okay it happens quite a bit but chills and tears together is a rarity). I thought the score is indeed flawless. The sound quality is fantastic. The violin solos are heart-warming and wrenching. The score is haunting (I especially love the combination of strings and haunting vocals). I thought Marianelli nailed it and I will say it now (though it's a bit early) but don't be surprised if he gains another Oscar for this amazing score. But we are still in March and Desplat has stuff coming up and other composers, too. But as of now, and today, it is my favorite score of 2011 so far.