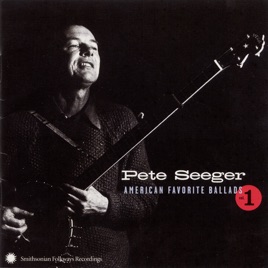 EDITORS' NOTES
Much of the banjo playing here sounds different than normal banjos because in addition to pioneering the preservation of American folk music Pete Seeger also single-handedly invented a modification of the instrument, elongating its neck by three frets, allowing for his preferred method of detuning the strings a minor third lower than the standard 5-string banjo. American Favorite Ballads, Vol. 1 (the first in a five-volume set) focuses largely on the songs Seeger recorded in the McCarthy era of the '50s, when his singing voice and political voice got him blacklisted. "John Henry" opens the collection with Seeger's fast-picking and straight tenor singing the narrative of the folk hero who challenged the birth of industrial labor. Did you know that the proper title for "Jimmy Crack Corn" is actually "Blue Tailed Fly" and that it was a blackface minstrel song musing joyously on the death of a slave owner? That song is here too, as are much more whimsical numbers like "Skip to My Lou" and of course Woody Guthrie's "This Land Is Your Land."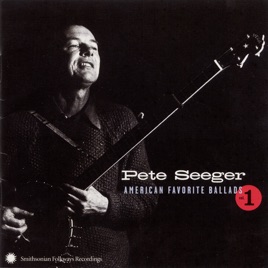 EDITORS' NOTES
Much of the banjo playing here sounds different than normal banjos because in addition to pioneering the preservation of American folk music Pete Seeger also single-handedly invented a modification of the instrument, elongating its neck by three frets, allowing for his preferred method of detuning the strings a minor third lower than the standard 5-string banjo. American Favorite Ballads, Vol. 1 (the first in a five-volume set) focuses largely on the songs Seeger recorded in the McCarthy era of the '50s, when his singing voice and political voice got him blacklisted. "John Henry" opens the collection with Seeger's fast-picking and straight tenor singing the narrative of the folk hero who challenged the birth of industrial labor. Did you know that the proper title for "Jimmy Crack Corn" is actually "Blue Tailed Fly" and that it was a blackface minstrel song musing joyously on the death of a slave owner? That song is here too, as are much more whimsical numbers like "Skip to My Lou" and of course Woody Guthrie's "This Land Is Your Land."
| | TITLE | | TIME |
| --- | --- | --- | --- |
| | | | |
| | | | |
| | Blue Tailed Fly (Jimmie Crack Corn) | | |
| | | | |
| | | | |
| | The Big Rock Candy Mountain | | |
| | | | |
| | | | |
| | | | |
| | | | |
| | | | |
| | | | |
| | | | |
| | | | |
| | | | |
| | | | |
| | | | |
| | | | |
| | | | |
| | | | |
| | | | |
| | | | |
| | | | |
| | I've Been Working On the Railroad | | |
| | | | |
| | So Long, It's Been Good to Know You (Dusty Old Dust) | | |
| | | | |
| | | | |
28 Songs, 1 Hour 13 Minutes
Released:

Dec 1, 1957

℗ 2002 Smithsonian Folkways Recordings
Ratings and Reviews
a great american
This is as American as it gets and fills you with the true meaning of who we are. Hear this, sing with it, and then try to live up to the ideals this man Pete did and does. Discover who he is and what he did in order to understand what freedom means.
This is simply great!
Great!
This is a great compilation of great american folk standards!
Great artist great songs!!
Always looking for albums of American ballads. And here I find every song I like. Anyone who love historical ballads would love these albums