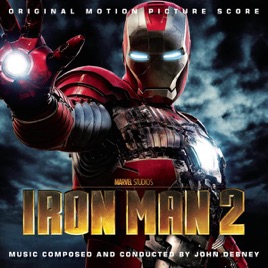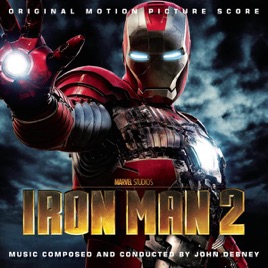 TITLE
TIME

Senate / Ivan Creates Drones

Make Way for Tomorrow - Expo Version

Tony Discovers Dad's Secret

New Element / Particle Accelerator

Iron Man Battles the Drones

Make Way for Tomorrow Today

The Stark Expo Singers
25 Songs, 1 Hour 11 Minutes
Released:

Jul 16, 2010

℗ 2010 Marvel Entertainment, LLC and its subsidiaries
Ratings and Reviews
Good, but not necessarily better
I love the Iron Man soundtrack by Ramin, and this go around by Debney is good too. But this to me is too much of a departure from the first film and it just doesn't feel 'Iron Man' to me. Ramin's soundtrack was more consistent in theme and captured each scene perfectly, and it sounded more like a "superhero" soundtrack. This soundtrack, while very well produced, feels like it could be for a James Bond film or any other action film. The first film was a success and you helped build it on a great soundtrack. Why change it completely with another composer?...If it ain't broken, don't fix it.

I equate the soundtracks to the actual movies: Film 1 great, Film 2 good. My two cents.
Debney or Djawadi?
Ramin Djawadi did an absolutely fantastic job with the first score.
the second however is a different matter.
the score was "OK" within the movie. However john's rendition of the Ironman music was lukewarm at best, especially when just played by itself.
The problem with it is; John Debney writes more sympathetic pieces that are moving, emotional, and inspiring. Cumming from more of a classical, full orchestral background with work on several famous scores such as: back to the future, passion of the Christ, Zathura, and princess diaries.
Ramin on the other hand, has done works such as; prison break, clash of the titans and the blade trilogy. Writing things more on the metallic/rock side. Portraying action, suspense, and danger while still he's able to write with great sympathy when needed.
Don't get me wrong, John still is a great composer he just needs to stick with the classical stuff.
IRON MAN 2 Finally!!! John Debney vs. Ramin Djawadi
Fan of the music from Iron Man by Ramin Djawadi, but now, a big fan of John Debney for Iron Man 2. This is an unbelieveable score!!! Ramin's score was good as well, it stuck with every moment of the movie. John's score has its accelerating moments, then he slows down a bit to give aus a break from everything. He gives Iron Man a very High-Tech feel. Ramin does so as well, by showing how BA Iron Man is. He gave a bit to much for us, he did slow down at certain points and allowed us to ease is to his music, but John handles his score gently preparing us for what might be coming up next. If you are a fan of the movies, or Ramin, you should buy this to add to your collection. "Heroes Aren't Born, They're Built."