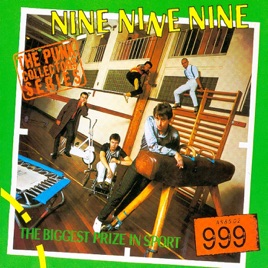 | | TITLE | | TIME |
| --- | --- | --- | --- |
| | | | |
| | | | |
| | | | |
| | | | |
| | | | |
| | The Biggest Prize In Sport | | |
| | | | |
| | | | |
| | | | |
| | | | |
| | | | |
| | | | |
| | | | |
| | | | |
| | | | |
15 Songs, 44 Minutes
Released:

Jan 1, 1980

℗ 1995 Anagram Records
Ratings and Reviews
The Biggest Prize is THIS!
By far, one of the best early punk bands and albums from this era...
Right up there with the Sex Pistols and early Clash...
For those skaters out there (you know who you are and you know who I am), this album defined a lot of contest runs in the old Hester Series!
English Wipeout, Hollywood, Boiler... all rad tunes to get you stoked...
Now that we're getting up there in years, Boys in the Gang is a great drinking song! HA!
Enjoy - and get this on your iPod!
-buck
A must have LP from 999
I had 999's first US lp High energy plan and was blown away by the sounds. Great uptempo tunes that make you get out of your seat so you can dance. So, When this lp came out in 1980 (or was it 1979), I came home from class, and I heard Nick Cash singing and I was like..."Could this be a 999's new lp?" It was. My roomate who didn't own a punk record to his name, bought it when he hear it played in the records store. He loved it, so do I and you will too! The band is a punk band, but the songs are truly fun to listen to. Buy it, you won't stop listening to it.
a great punk album
999 is still a great band, their just rough enough around the edges to be solidly punk, but they have great range and variability in their music and song writing. Check out Lil red riding hood, Subterfuge, English wipeout, Inside Out and more.