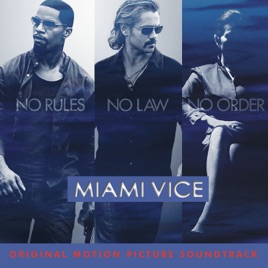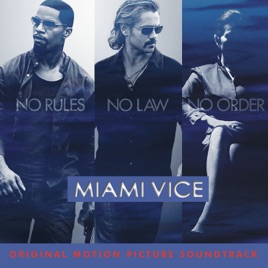 Miami Vice (Original Motion Picture Soundtrack)
Various Artists
TITLE
TIME

Moby featuring Patti LaBelle

Sinnerman (Felix da Housecat's Heavenly House Mix)

Nina Simone & Felix da Housecat

Klaus Badelt & Mark Batson
17 Songs, 1 Hour 12 Minutes
Released:

Jul 18, 2006

℗ 2006 Atlantic Recording Corporation for the United States and WEA International Inc. for the world outside of the United States.
Ratings and Reviews
Good (but should've been better...)
I saw the movie first, heard all of the songs within the context of the movie, and then decided to buy the album. It's a good, eclectic mix of music which works well as a whole. There are a few stand-out tracks, like "Sinnerman," "Ramblas," and "Strict Machine," but if you're looking for a Top 40 single or a radio-friendly pop song - it isn't on this record. Overall though, I thought the album was as good as the "Heat" soundtrack, for those familiar with Mann's movie soundtracks.
As far as giving it only 3 stars, this album should have been not just good, but AWESOME! Five reasons I have for not rating it higher:
1. Jan Hammer refused to contribute his music, including the TV theme song, so none of his music (or remixes of them) is here. Bad career move for Mr. Hammer.
2. The Jay-Z/Linkin Park song "Encore" was used in the previews and in the movie, but is absent from the soundtrack, due to copyright and compensation issues between the co-owners of the song (thanks to MTV, Def Jam, and Warner Brothers).
3. There were two Audioslave songs in the movie, which worked GREAT during their scenes, but neither of which are on the soundtrack. The songs are going to be on Audioslave's upcoming September album. This was a bad move all around - why wouldn't you want your songs released early, both to get a buzz going about your upcoming album as well as to bump up sales for the Vice soundtrack?
4. The Nonpoint cover of "In the Air Tonight" is AWEFUL! It's like the soundtrack producer just did a Google search to find a band that had covered the song. The opportunity to get a better group to cover this song or do a remix was completely wasted. Who wouldn't have rather heard Groove Armada co-produce a remix the original song with Phil Collins, or Bloc Party doing a cover? It'd be hard not to do a better job.
5. Although the movie captures a lot of what was cool about the show (style, cinematography, guns, sex appeal, locations), the producers dropped the ball in one of the major areas that made the show so original - breaking new or upcoming music! It'd have been even better to hear new tracks from all over - Thom Yorke, Tool, Gnarls Barkley, Audioslave, Yeah Yeah Yeah's, G. Love - mixed in with most of the cinematic tracks that were used.
Instead the album was simply good, but could've been even better.
Pretty good album, BUT...
Where the crap is the theme song from the 80's? Or at least a remix of it. (At least I didn't hear it, it might be there). And why can't I buy songs individually? I hate when I am forced to buy an entire album on iTunes. And for that reason, I am not buying this album. I like about 7 songs on this album, and I want just those. O, well. Still can't wait to see the movie. :)
Not the Miami Vice of the 80's
Good Miami-style sounds. Hip. Electric. You can really feel the hot, humid nights. These these tracks will build the tension of a car chase or the deep, introspective character momemts that Michael Mann is famous for.

Unfortunately, the original theme (by Jan Hammer) or some variation is not on here.