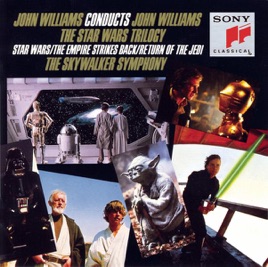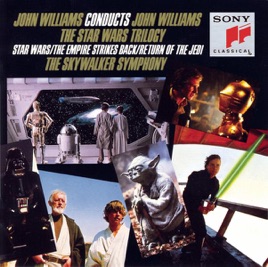 John Williams Conducts John Williams: The Star Wars Trilogy
John Williams
TITLE
TIME

Main Theme (From "Star Wars, Episode IV: A New Hope") [Instrumental]

John Williams & Skywalker Symphony Orchestra

Princess Leia (From "Star Wars, Episode IV: A New Hope") [Instrumental]

John Williams & The Skywalker Symphony Orchestra

The Little People (From "Star Wars, Episode IV: A New Hope") [Instrumental]

John Williams & The Skywalker Symphony Orchestra

The Imperial March (From "Star Wars, Episode V: The Empire Strikes Back")

John Williams & The Skywalker Symphony Orchestra

Yoda's Theme (From "Star Wars, Episode V: The Empire Strikes Back") [Instrumental]

John Williams & The Skywalker Symphony Orchestra

Parade of the Ewoks (From "Star Wars, Episode VI: Return of the Jedi") [Instrumental]

John Williams & The Skywalker Symphony Orchestra

The Asteroid Field (From "Star Wars, Episode V: The Empire Strikes Back") [Instrumental]

John Williams & The Skywalker Symphony Orchestra

Luke and Leia (From "Star Wars, Episode VI: Return of the Jedi") [Instrumental]

John Williams & The Skywalker Symphony Orchestra

The Cantina Band (From "Star Wars, Episode IV: A New Hope")

John Williams & The Skywalker Symphony Orchestra

Here They Come! (From "Star Wars, Episode IV: A New Hope") [Instrumental]

John Williams & The Skywalker Symphony Orchestra

Jabba the Hutt (From "Star Wars, Episode VI: Return of the Jedi") [Instrumental]

John Williams & The Skywalker Symphony Orchestra

The Forest Battle (From "Star Wars, Episode VI: Return of the Jedi") [Instrumental]

John Williams & The Skywalker Symphony Orchestra

Throne Room and Finale (From "Star Wars, Episode IV: A New Hope")

John Williams & The Skywalker Symphony Orchestra
13 Songs, 55 Minutes
Released:

Nov 6, 1990

℗ 1990 SONY BMG MUSIC ENTERTAINMENT
Ratings and Reviews
The Best!
I got this CD on my 13th birthday from some friends and I was so overjoyed, I listened to it late into the night on the DVD player because I didn't have a CD player of my own yet, and I was hooked.

This compilation has all of John William's best themes and elements from the original SW films. Who could forget The Imperial March or Throne Room and Finale? There is some blaster shooting and glass breaking or something at the end of The Cantina Band... I think you should buy this if you like this music as much as I do.
Classic!!
All the best songs from the original trilogy, I had the Star Wars album when I was seven, sounds just as incredible today!!
Yet another five stars
This album does an admirale job taking the best and most well known numbers in the origional trilogy and making sure that each episode and theme appears equally balanced. What I enjoye most about this album is specifically found in track 9, The Cantina Band. I likked how the track continued through the sound affects after the gun shot, and didn't abruptly cease. John Williams once again does an incredible job conducting his own music. Another 5 stars.