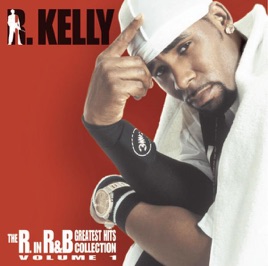 TITLE
TIME

Bump n' Grind (LP Version)

Sex Me, Pt. I (Radio Edit)

You Remind Me of Something

Down Low (Nobody Has to Know) [feat. Ronald Isley & Ernie Isley]

When a Woman's Fed Up (Radio Version)

Step in the Name of Love (Remix)

Fiesta (feat. JAY Z, Boo & Gotti) [Remix]

Ghetto Religion (feat. R. Kelly)

Wyclef Jean

R. Kelly & Public Announcement

R. Kelly & Public Announcement

The World's Greatest (Radio Edit)

I'm Your Angel (with Céline Dion)
18 Songs, 1 Hour 17 Minutes
Released:

Sep 23, 2003

℗ This Compilation (P) 2003 RCA/JIVE Label Group, a unit of Sony Music Entertainment
Ratings and Reviews
Best Of The Best
For those people who aren't R. Kelly junkies, The R. In R&B Collection, Vol. 1 is perfect because it showcases some of his most amazing songs and his undeniable creative ability. Some of his greatest ballads are featured on here-classics like Bump N' Grind(which you can never get enough of), Your Body's Callin', Sex Me, Pt. 1 and You Remind Me of Something(so addictive) along with his present hits-Ignition Remix, I Wish and some new songs- Thoia Thoing to name one. There's some very noticable songs missing- where the hell is 'Half On A Baby' and 'If I Could Turn Back The Hands Of Time'?- but even with those absent this cd is still pure brilliance. Such is the genius of R. Kelly.
The King of sex music
Robert Kelly is best slow jam artist of the century. Chris Brown and Neo have huge shoes to fell, if they even want to compete. I dont agree with his decisions that he makes but, the man makes outstanding music and no one can take that away from him.
"DIS IS AMERICA PEOPLE" in my JAY-Z Voice
I just purchased this album. Don't judge me. LOL