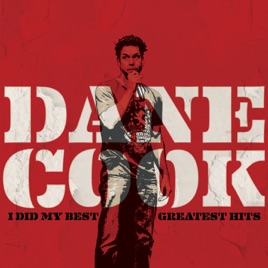 | | TITLE | | TIME |
| --- | --- | --- | --- |
| | | | |
| | | | |
| | | | |
| | | | |
| | | | |
| | | | |
| | | | |
| | | | |
| | | | |
| | | | |
| | | | |
| | | | |
| | | | |
| | | | |
| | | | |
| | | | |
| | | | |
| | | | |
| | | | |
| | | | |
| | | | |
| | | | |
| | | | |
| | Someone S#!t On the Coats | | |
| | | | |
| | | | |
| | | | |
| | | | |
| | | | |
| | Let's Do This, I'm a Cashew | | |
| | | | |
| | | | |
| | | | |
| | Hot Air Balloon (Bonus Track) | | |
| | | | |
| | | | |
| | Jerking and Jilling Off (Bonus Track) | | |
37 Songs, 2 Hours 33 Minutes
Released:

Nov 22, 2010

℗ 2010 Comedy Central Records
Ratings and Reviews
Dane Cook = Funniest Man Alive
This album is spectacular in every single way. It has every single one of Dane's funniest and craziest stories that will make you laugh over and over again. I've been following him for about 10 years now and it still amazes me how I find myself laughing to this very day of some of the content I've heard over the years. This album has some sure laughs (for the mature audience, I must add) but overall it will change your perception of comedy forever!
Thank you Dane Cook! You truly are an AMAZING comic!!! Hurry up and buy this greatest hits album now, everybody!
That Dane Cook is one silly bi***!
I saw him live this past Sunday and he is HILARIOUS! Everytime I hear Dane Cook it's like a nonstop laughfest. He's one of the funniest people alive! I would definitely recommend his Greatest Hits album to anyone thats looking for a good laugh!
SuFi!!!
I have been a fan since I first heard him in 2006. He's one of a kind and I love his silly personality. He has many haters but he has many more fans!!! Go Dane!!