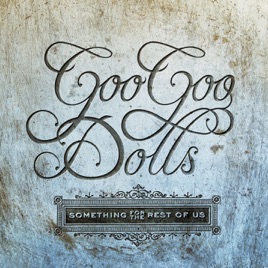 EDITORS' NOTES
The Goo Goo Dolls were born in '86 — the Buffalo brood's earliest records blended punk and classic rock (à la The Replacements), and the '90s saw them morph into one of the decade's top-selling bands. For their ninth studio album, Something for the Rest of Us, the gents team with a host of producers — including longtime collaborator Tim Palmer (U2, Pearl Jam) and Butch Vig (Green Day, Smashing Pumpkins) — to create a collection of warm, guitar-driven pop-rock. On the rollicking open cut, John Rzeznik sings about someone living the "Sweetest Lie," and this sense of disenchantment is a recurring theme — echoed on the crashing ballad "Nothing Is Real" and "Home," where Rzeznik paints a picture of a "crowded room full of empty faces." The most touching tune, "Notbroken," swells with emotion and tells the tale of a soldier returning from war — it's the type of poignant yet timeless subject matter that has endured throughout The Goo Goos' evolution. This version of Something for the Rest of Us features three bonus tracks, including an acoustic version of "Home."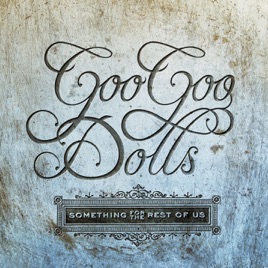 EDITORS' NOTES
The Goo Goo Dolls were born in '86 — the Buffalo brood's earliest records blended punk and classic rock (à la The Replacements), and the '90s saw them morph into one of the decade's top-selling bands. For their ninth studio album, Something for the Rest of Us, the gents team with a host of producers — including longtime collaborator Tim Palmer (U2, Pearl Jam) and Butch Vig (Green Day, Smashing Pumpkins) — to create a collection of warm, guitar-driven pop-rock. On the rollicking open cut, John Rzeznik sings about someone living the "Sweetest Lie," and this sense of disenchantment is a recurring theme — echoed on the crashing ballad "Nothing Is Real" and "Home," where Rzeznik paints a picture of a "crowded room full of empty faces." The most touching tune, "Notbroken," swells with emotion and tells the tale of a soldier returning from war — it's the type of poignant yet timeless subject matter that has endured throughout The Goo Goos' evolution. This version of Something for the Rest of Us features three bonus tracks, including an acoustic version of "Home."
| | TITLE | | TIME |
| --- | --- | --- | --- |
| | | | |
| | | | |
| | | | |
| | | | |
| | | | |
| | | | |
| | | | |
| | | | |
| | Something for the Rest of Us | | |
| | | | |
| | | | |
| | | | |
| | Postcards from Paradise (Bonus Track) | | |
| | | | |
| | Home (Acoustic) [Bonus Track] | | |
15 Songs, 59 Minutes
Released:

Aug 27, 2010

℗ 2010 Warner Records Inc.
Ratings and Reviews
1st Review-Great Album
The Goo Goo Dolls have done it again! After 4 years they give us an album that is musically and lyrically masterful, uplifting, and inspirational. Listening to it takes you away to a place where you can overcome whatever obstacle you face and to a place of self acceptance and peace of mind. It gives us hope that just maybe, there is something for the rest of us out there.
Finally
I spend everything late Monday night or early Tuesday morning looking over the iTunes homepage to see what new records have come out each week. So often I just get depressed at the garbage that is being produced and recorded and sold to people who will listen to anything. When I got on and realized that the new goo goo dolls album had dropped last night instead of next week like I had thought originally I couldn't wait to hear it all. I downloaded it, listened to it start to finish, and then did that again. It is so enjoyable having a real album, full of a dozen of so real songs, each one as important as the rest. This is hands down the album of the year so far. If you enjoy Miley Cyrus or Kesha then save your money on this because you will hate it...it's real music. I just hope that the goo goo dolls will keep making records for many years to come.
The best
This is by far the best goo goo dolls album yet.... Every song on here could be a hit...