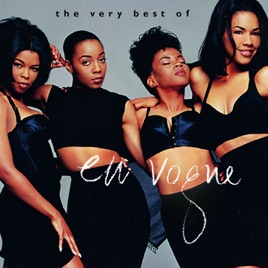 EDITORS' NOTES
En Vogue's arrival in 1990 reintroduced the girl group sound that had lain dormant in the Eighties. Radiating sex appeal and high fashion sense, they came off like hip-hop's answer to the Supremes, but En Vogue was tougher and sassier than Diana Ross's unit could ever hope to be. "My Lovin'" and "Free Your Mind" are the sound of four self-possessed women who didn't have time to play games, and En Vogue repeatedly made reference to vintage deep soul music in its performances. "Free Your Mind" is based on a Funkadelic anthem from 1970, while the impossibly sultry hit "Giving Him Something He Can Feel" is a cover of a song Curtis Mayfield wrote for Aretha Franklin. "Whatta Man," a collaboration with Salt-N-Pepa that remains the Nineties' most memorable girl power anthem, is based on an obscure but dangerously groovy song that Lynda Lyndell cut at Stax. En Vogue's connection with classic soul makes many of their hits timeless. Other songs, are very much of their time, like the great singles "Hold On" and "Love Don't Love You," whose New Jack Swing production dates them directly to the early Nineties. But even when they weren't making classics, En Vogue boasted close-knit harmonies and a deep feel for the funk — just check lesser-known tracks like "Runaway Love," "Don't Go," and "Let It Flow."
EDITORS' NOTES
En Vogue's arrival in 1990 reintroduced the girl group sound that had lain dormant in the Eighties. Radiating sex appeal and high fashion sense, they came off like hip-hop's answer to the Supremes, but En Vogue was tougher and sassier than Diana Ross's unit could ever hope to be. "My Lovin'" and "Free Your Mind" are the sound of four self-possessed women who didn't have time to play games, and En Vogue repeatedly made reference to vintage deep soul music in its performances. "Free Your Mind" is based on a Funkadelic anthem from 1970, while the impossibly sultry hit "Giving Him Something He Can Feel" is a cover of a song Curtis Mayfield wrote for Aretha Franklin. "Whatta Man," a collaboration with Salt-N-Pepa that remains the Nineties' most memorable girl power anthem, is based on an obscure but dangerously groovy song that Lynda Lyndell cut at Stax. En Vogue's connection with classic soul makes many of their hits timeless. Other songs, are very much of their time, like the great singles "Hold On" and "Love Don't Love You," whose New Jack Swing production dates them directly to the early Nineties. But even when they weren't making classics, En Vogue boasted close-knit harmonies and a deep feel for the funk — just check lesser-known tracks like "Runaway Love," "Don't Go," and "Let It Flow."
| | TITLE | | TIME |
| --- | --- | --- | --- |
| | | | |
| | | | |
| | My Lovin' (You're Never Gonna Get It) | | |
| | | | |
| | Give It Up, Turn It Loose | | |
| | | | |
| | | | |
| | | | |
| | | | |
| | | | |
| | Waitin' On You (Bonus Track) | | |
| | Runaway Love (Extended Version) [feat. FMob] | | |
| | Giving Him Something He Can Feel | | |
| | | | |
| | | | |
| | | | |
16 Songs, 1 Hour 17 Minutes
Released:

Aug 21, 2001

℗ 2006 Elektra Entertainment Group Manufactured & Marketed by Rhino Entertainment Company, a Warner Music Group Company
Ratings and Reviews
I want the Free your mind music video!!!
Itunes needs to get that music video. How many times does I person have to request something to get it?
Amazing!!!
It's a shame that they disbanded. They are amazingly talented and each of them brought so much to the group. Their voices all unique and hit different ranges. You definitely need to get this or you're lost without it.
En vouge
I put on En Vouge When I needa a lil' pick me up .. When I need to get it together and kick it in gear they are my first choice !! GET THOSE VIDEOS GOING!!!