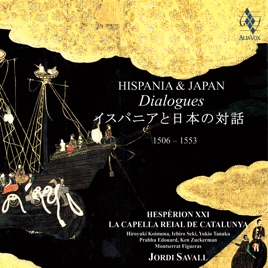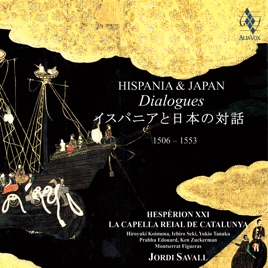 TITLE
TIME

O gloriosa Domina (Shakuhashi)

Hespèrion XXI, La Capella Reial De Catalunya & Jordi Savall

O gloriosa Domina (Gregorian)

Hespèrion XXI, La Capella Reial De Catalunya & Jordi Savall

O gloriosa Domina (Biwa & Shinobue)

Hespèrion XXI, La Capella Reial De Catalunya & Jordi Savall

Quod Eva tristis (Gregorian)

Hespèrion XXI, La Capella Reial De Catalunya & Jordi Savall

Hespèrion XXI, La Capella Reial De Catalunya & Jordi Savall

Tu regis alti ianua III (Chorus)

Hespèrion XXI, La Capella Reial De Catalunya & Jordi Savall

O gloriosa Domina (Shakuhachi & Biwa)

Hespèrion XXI, La Capella Reial De Catalunya & Jordi Savall

Patri sit paraclito IV (Chorus)

Hespèrion XXI, La Capella Reial De Catalunya & Jordi Savall

Luis de Narvaez: Diferencia II On "O gloriosa Domina"

Hespèrion XXI, La Capella Reial De Catalunya & Jordi Savall

O gloriosa Domina - Amen (Chorus)

Hespèrion XXI, La Capella Reial De Catalunya & Jordi Savall

Venegas de Henestrosa: Himno XX "O gloriosa Domina"

Hespèrion XXI, La Capella Reial De Catalunya & Jordi Savall

Hespèrion XXI, La Capella Reial De Catalunya & Jordi Savall

Villancico: Senhora del Mundo (M. Figueras)

Hespèrion XXI, La Capella Reial De Catalunya & Jordi Savall

Alba & Rotundellus (Anon.)

Hespèrion XXI, La Capella Reial De Catalunya & Jordi Savall

Hespèrion XXI, La Capella Reial De Catalunya & Jordi Savall

O gloriosa Domina - Diferencia I (Vihuela)

Hespèrion XXI, La Capella Reial De Catalunya & Jordi Savall

Shino no netori (Shinobue)

Hespèrion XXI, La Capella Reial De Catalunya & Jordi Savall

Ave María (Pentatónica) - [Anon., China]

Hespèrion XXI, La Capella Reial De Catalunya & Jordi Savall

Hespèrion XXI, La Capella Reial De Catalunya & Jordi Savall
19 Songs, 1 Hour
Released:

Dec 31, 2006

℗ 2007 Alia Vox
Ratings and Reviews
Uniquely Great!
Look... I see no reviews on ANY Jordi Savall albums. Does that mean that NOBODY is buying or listening to this magnificent music? That would be unacceptable: this is as great as music gets on this planet! And here, through the excellent facility of iTunes distribution, you can Stock Up(!!) on these fabulous albums from the comfort of your very own Laz-i-Boy® recliner! Jeez... at least get the soundtrack for (or better! - WATCH!) "Tous les Matins des Monde," for which effort you'll be (WILDLY) rewarded with a recording of early French baroque that will... tear your heart out with its profundity. How can any feeling person listen to Montserrat Figueras' (his wife) prefect rendition of Couperin's, "Trois Leçons," without simply weeping in public? Or the innocent sweetness of the song of the two little girls, "Un Jeune Fillette?" Just that one album should be enough to get you all to invest in a library of this fabulous, FABulous music.

This particular album - "Hispania & Japan" - is unlike any other you're likely to find: a perfect mating of Medieval & Renaissance music with the equivalent music that was being played in Japan in that day... or even, the use of traditional Japanese instruments to play that ancient Western music... this musical juxtaposition is... unparalleled... and I can't wait to see what musical journey/experiment the Savall ensembles will embark on next!

Not just thoroughly recommendable to early music fans but, also, to fans of World Music (especially the Far Eastern variety) and, also, people interested in contemplative music that creates a warm ambience. Nope... "Dance Music" dis ain't... can't recommend this music to people who can't use "juxtaposition" and "ambience" in a sentence, I'm afraid...