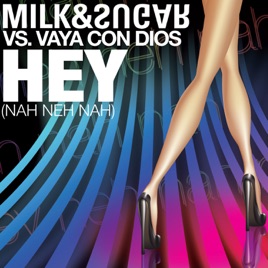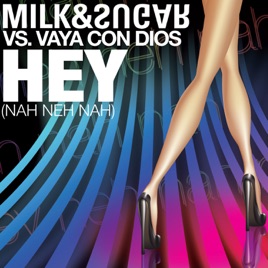 Hey (Nah Neh Nah) [Remixes] {Milk & Sugar vs. Vaya Con Dios}
Milk & Sugar
| | TITLE | | TIME |
| --- | --- | --- | --- |
| | Hey (Nah Neh Nah) [Milk & Sugar UK Radio Edit] | | |
| | Hey (Nah Neh Nah) [Milk & Sugar Alternative Radio Version] | | |
| | Hey (Nah Neh Nah) [Milk & Sugar Club Mix] | | |
| | Hey (Nah Neh Nah) [Milk & Sugar Dub Mix] | | |
| | Hey (Nah Neh Nah) [Milk & Sugar Extended Mix] | | |
| | Hey (Nah Neh Nah) [Alex Kenji Re-Edit] | | |
| | Hey (Nah Neh Nah) [Lissat & Voltaxx Radio Edit] | | |
| | Hey (Nah Neh Nah) [Lissat & Voltaxx Remix] | | |
| | Hey (Nah Neh Nah) [Lissat & Voltaxx Dub Tool] | | |
| | Hey (Nah Neh Nah) [Niels Van Gogh & Daniel Strauss Radio Edit] | | |
| | Hey (Nah Neh Nah) [Niels Van Gogh & Daniel Strauss Remix] | | |
| | Hey (Nah Neh Nah) [Wawa Radio Edit] | | |
| | Hey (Nah Neh Nah) [Wawa Club Mix] | | |
| | Hey (Nah Neh Nah) [Wawa Dub] | | |
14 Songs, 1 Hour 10 Minutes
Released:

Feb 22, 2011

℗ 2010 Milk & Sugar Recordings, a division of Future Music Produktions- und Verlags GmbH under exclusive license to Ultra Records, Inc.
Ratings and Reviews
Can't stop listening!
I think it's better than "we no speako americano"!!! This song is so catchy, makes you wanna dance nonstop :)
Check your Pulse
If this doesn't make you want to move.... Check your Pulse!
WOW
This song is just sick!!! Love all the mixes!!! Highly recommended!!!