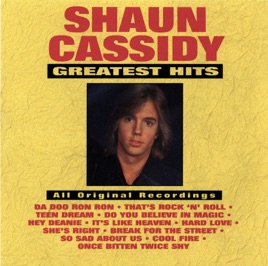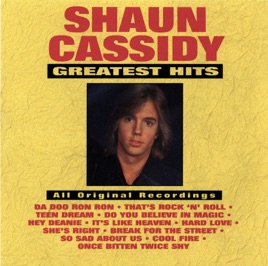 12 Songs, 40 Minutes
Released:

Jun 1, 1977

℗ 1992 Curb Records, Inc.
Ratings and Reviews
The Youth that I Left Behind
The memories that are sparked by these songs are wonderful! I remember who I was then, kind of makes me feel free again with the wonder of life.
Better than justin biever
Even though I'm 14 years old I dare to say that shaun cassidy is better than justin biever. Waaayy better
Shaun is Amazing!!!!!
This album is fantastic! I'm only fourteen years old, but I became a Shaun Cassidy fanatic about two years ago when I started watching the Hardy Boys. After listening to all of his songs, I can honestly say that the first five tracks are some of his best. However, instead of including songs from the "Wasp" album, I wish they would have used songs such as "Our Night", which is one of my other favorites. However, it's still Shaun Cassidy, so that automatically makes it amazing!!! Now if only they would put his 1989 single "Memory Girl" on iTunes!!!! :D

<3 SHAUN CASSIDY FOREVER <3