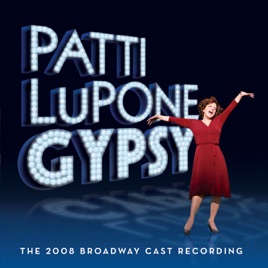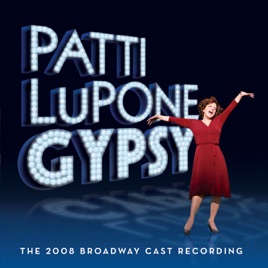 TITLE
TIME

Baby June and Her Newsboys / Let Me Entertain You

Gypsy 2008 Broadway Cast

Have an Eggroll, Mr. Goldstone

Gypsy 2008 Broadway Cast

You'll Never Get Away from Me

Gypsy 2008 Broadway Cast

Dainty June and Her Farmboys

Gypsy 2008 Broadway Cast

Everything's Coming Up Roses

Gypsy 2008 Broadway Cast

Madame Rose's Toreadorables

Gypsy 2008 Broadway Cast

Mother's Day (Alternate Version)

Gypsy 2008 Broadway Cast

Small World / Momma's Talkin' Soft

Gypsy 2008 Broadway Cast

Three Wishes for Christmas

Gypsy 2008 Broadway Cast
26 Songs, 1 Hour 18 Minutes
Released:

Aug 26, 2008

℗ 2008 Direct Holdings Americas Inc
Ratings and Reviews
Here She is Boys - Here she is World - HERE'S PATTI!
An magnificent capture of the 2008 revival of "Gypsy" - Tony Winners Patti LuPone, Boyd Gaines and Laura Benanti plus an amazing cast including Leigh Ann Larken and Tony Yazbeck deliver knockout performances both in the theatre and on the CD - If you are a fan of "Gypsy" (or Broadway) you won't be disappointed. The recording gives the listener a true "in the theatre" feel and the extras that are included are a fun listen. If you are in NY go see this show as you are in for a treat - for those not able to get to the theatre this CD is a great preservation of a supreme production.
Everything's Coming Up Roses for this recording!!!
What else can you say but truly amazing. This is the most complete recording of the musical (in addition to other recordings, this one has the Seattle to L.A. travel music, and the complete "Broadway" section and dance break). Not only does this cd come with the entire show, it also includes deleted songs and sections that never made it into the original broadway show!

Now onto the performances: ...WOW! The very least you can expect from Patti LuPone is pure brilliance, and she doesn't disappoint in the recording. This powerhouse gives a new take on the role and songs, but still keeps the integrity of the musical we all know and love. She pulls things out of this music like no other performer has ever done (or probably will do in many years to come).

Boyd Gaines is my favorite Herbie because he can actually sing! This just makes listening to songs like Small World and You'll Never Get Away from me that much more enjoyable. Laura Benanti literally changes throughout the recording. You can just picture Louise in the first half of the show as the quiet, meek tom-boy she is... but wow, by the time of the Strip, you'd really believe it's Gypsy singing!! Leigh Ann Larkin also doesn't disappoint. Instead of hearing the high pitched squeeling like other Junes have performed, Larkin's June is very pleasing to listen to.

Sami Gayle and Tony Yazbeck are also notably enjoyable.

This cast not only backs the incredible Patti LuPone, but stands on its own.

After seeing the show at the St. James last May, I've been itching for this recording! The cast tries to bring this musical to life through CD. Listening took me back to that unforgettable night. I will cherish this recording forever.

I almost forgot! There is a 30 piece orchestra backing up the singers!!! Even on a recording, you can tell the difference between a live orchestra compared to todays more popularly used synthesized sound. What a treat... yet again!!!

BUY THIS, BUY THIS, BUY THIS!!! You won't be disappointed and you also won't be able to stop listening to it!!!!!
OMG
Lets see, i waited up untill 12:00 on augest 26th just to buy this on itunes. and i know it is worth it. its an amazing score with the best cast of it yet! Buy it! Trust me, you wont be let down.