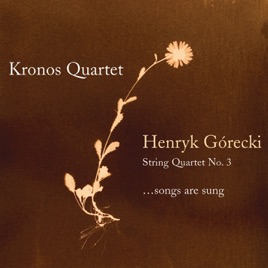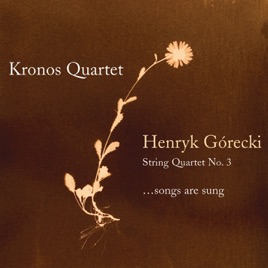 | | TITLE | | TIME |
| --- | --- | --- | --- |
| | String Quartet No. 3 - "...songs are sung": I. Adagio-Molto Andante-Cantabile | | |
| | String Quartet No. 3 - "...songs are sung": II. Largo, Cantabile | | |
| | String Quartet No. 3 - "...songs are sung": III. Allegro, Sempre Ben Marcato | | |
| | String Quartet No. 3 - "...songs are sung": IV. Deciso-Espressivo Ma Ben Tenuto | | |
| | String Quartet No. 3 - "...songs are sung": V. Largo-Tranquillo | | |
5 Songs, 49 Minutes
Released:

Mar 20, 2007

℗ 2007 Nonesuch Records
Ratings and Reviews
Well done, well done
Any one who has read my Kronos Quartet reivews knows I'm not the biggest fan of the boys in the band but this time the've come out with a winner. It's boggling why it took over ten years to release this to the Kronos, the quartet to whom it is dedicated. Any one who expects to hear something new and removed from his previous quartets will be diapointed though. This work falls in line quite nicely with the previous quartets. The reading has a warmth and obvious familiararity with the composers intentions. There are parts that could be said are decendants of Shostakovich's quartets although I fail to find the connection to the eight quartet mentioned by a previous reviewer. This is a strong and powerful work and the record will prove to be the reference recording for years to come. I'd thought I'd never hear myself say this in public but BRAVO Kronos, this is a job well done.
Fantastic.
As a violist and composer, I must commend the Kronos Quartet and Mr. Gorecki for one of the most sublime and fulfilling musical experiences. The work itself is incredibly massive, with suprisingly simple and uncomplicated thematic material typical of Gorecki's music. I also sense some influence from earlier important quartets, notably Shostakovich's 8th Quartet. At the same time, the fourth movement is strangely, but not displeasingly, removed from the previous movements. It begins in a very bleedingly Romantic way, as if you are listening to something by Tchaikovsky or Brahms, though it quickly moves into a much more "neo-romantic" vein with more modern harmonic language. As you can see by the length of my review, I am thoroughly pleased with this work, and hope to hear more from Mr. Gorecki and the Kronos in future!
Songs in A Universal Language
Anyone can appreciate the leaden beauty of this recording, from metal-lovers to hip-hop afficianados, to sigur ros-ers. This is a work of epic proportions performed by the virtuostic Chronos Quartet. Wordlessly, the music speaks in the universal language of the human tragedy and disquiets the listener, instilling a sense of mission and urgency...to what end? Ah, the great mysteries of instrumentalism! Warning: repeated listening only deepens the mystery.