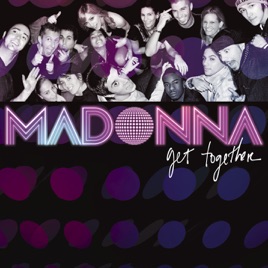 | | TITLE | | TIME |
| --- | --- | --- | --- |
| | | | |
| | Get Together (Jacques Lu Cont Mix) | | |
| | Get Together (Danny Howells & Dick Trevor KinkyFunk Mix) | | |
| | Get Together (Tiefschwarz Remix) | | |
| | Get Together (James Holden Remix) | | |
| | I Love New York (Thin White Duke Remix) | | |
6 Songs, 43 Minutes
Released:

Jun 6, 2006

℗ 2006 Warner Records Inc.
Ratings and Reviews
Cool Remixes
Cool Remixes - Although I'm usually a fan of vocals, I actually like the 'James Holden' remix the best.
Get It Together
This is one of the finer songs on Madonna's Confessions CD and I have been really looking forward to this release. The Danny Howells & Dick Trevor KinkyFunk Mix is great -- instant energy, absolutely perfect. The Jacques Lu Cont Mix is what we have come to expect from Stuart Price -- a guitar riff and some minimal electronica, not bad. However, the Tiefschwarz and James Holden remixes are absolutely horrible -- unlistenable. Skip the full purchase and get the second and third tracks. It is also worth getting the I Love New York remix -- it's not a huge departure from the original, but very enjoyable nonetheless.
Good Song, Weak Remixes
"Get Together" is one of the best songs from Madonna's 2005 "Confessions on a Dance Floor" album. However, this is by far the weakest single from the "Confessions" era and in a long while from Madonna, period. The best songs on this EP? The first, which is the album version and then "Danny Howells" remix. The others just seem a bit under-produced or un-thought out. Yeah, the Jacques Lu Cont Mix is okay, but it's nothing close to the original which is perhaps close to perfection. The James Holden mix is plain horrific and should not have been released, period. The "I Love New York" remix is nice, worth a listen and purchase more so than some of the other tracks.