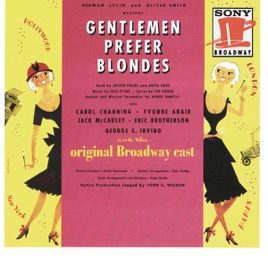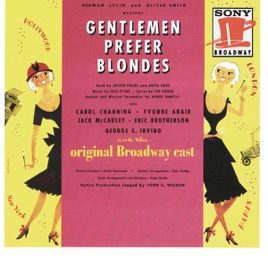 TITLE
TIME

Gentlemen Prefer Blondes: Overture

Gentlemen Prefer Blondes Orchestra & Milton Rosenstock

Gentlemen Prefer Blondes: It's High Time

Yvonne Adair & Gentlemen Prefer Blondes Ensemble

Gentlemen Prefer Blondes: Bye Bye Baby

Carol Channing, Jack McCauley & Gentlemen Prefer Blondes Ensemble

Gentlemen Prefer Blondes: A Little Girl from Little Rock

Carol Channing

Gentlemen Prefer Blondes: I Love What I'm Doing

Yvonne Adair

Gentlemen Prefer Blondes: Just a Kiss Apart

Eric Brotherson & Yvonne Adair

Gentlemen Prefer Blondes: The Practice Scherzo

Gentlemen Prefer Blondes Orchestra & Milton Rosenstock

Gentlemen Prefer Blondes: It's Delightful Down in Chile

Rex Evans, Carol Channing & Gentlemen Prefer Blondes Ensemble

Gentlemen Prefer Blondes: Sunshine

Yvonne Adair & Eric Brotherson

Gentlemen Prefer Blondes: I'm a'Tingle, I'm a'Glow

Yvonne Adair, George S. Irving & Carol Channing

Gentlemen Prefer Blondes: You Say You Care

Eric Brotherson & Yvonne Adair

Gentlemen Prefer Blondes: Mamie is Mimi

Honi Coles, Cholly Atkins & Gentlemen Prefer Blondes Ensemble

Gentlemen Prefer Blondes: Diamonds Are a Girl's Best Friend

Carol Channing

Gentlemen Prefer Blondes: Gentlemen Prefer Blondes

Carol Channing & Jack McCauley

Gentlemen Prefer Blondes: Homesick Blues

Carol Channing, Yvonne Adair, Jack McCauley, Eric Brotherson, Alice Pearce & George S. Irving

Gentlemen Prefer Blondes: Keeping Cool with Coolidge

Yvonne Adair
16 Songs, 44 Minutes
Released:

Dec 31, 1949

℗ Originally released 1950 SONY BMG MUSIC ENTERTAINMENT
Ratings and Reviews
Classic!
I love the musical (starring Carol Channing) and the film (Marilyn Monroe & Jane Russell). I prefer Carol's quirkier and more innocent take on Lorelei Lee, however Marilyn's seductive and straight-forward act also makes for a brilliantly built, comedic character.

My only flaw in the film version is it doesn't follow the musical's synopsis. By doing this, it misses out on one of Lorelei's character-defining songs ("Delightful Down In Chile"). And also, the whole "Lorelei and Dorothy are show girls" is a bit odd, and it completely butchers "Little Girl From Little Rock".

But regardless, both are great comedic works and are American treasures.
good
its actually really good, especially the music! however, I like the movie with Marilyn Monroe and Jane Russell better. The songs are a little better and catchier....iTunes should get that soundtrack!(if it exists)
powerful!!
the songs are awesome and the musical was fantastic. i also like marilyn monroe in this movie. awesome all around!!