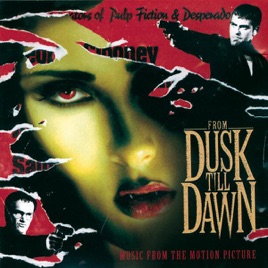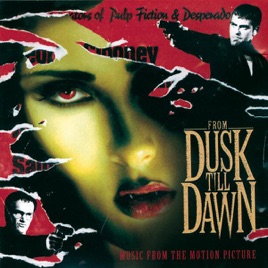 From Dusk Till Dawn (Music from the Motion Picture)
Various Artists
TITLE
TIME

Everybody Be Cool (Dialogue)

George Clooney

Would You Do Me a Favor? (Dialogue)

George

Angry Cockroaches (Cucarachas Enojadas)

Tito & Tarantula

Stevie Ray Vaughan & Double Trouble

Willie the Wimp (And His Cadillac Coffin)

Stevie Ray Vaughan & Double Trouble

Dialogue spoken by Tom Savini

Chet's Speech, Pt. II (Dialogue)

Cheech Marin
18 Songs, 48 Minutes
Released:

Jan 23, 1996

℗ 1996, 2008 SONY BMG MUSIC ENTERTAINMENT.
Ratings and Reviews
after dark album only!?!
ok i'm a huge fan of from dusk till dawn! I love the song after dark, but i'm not about to spend $10 on the whole album when i only want that one song. I don't understand why itunes does that, and its always with the songs people want the most. Its no wonder that people turn to other websites to get the songs they want. I think itunes should get rid of that buy album only.
After Dark
After Dark should be allowed to be purchased as a single. Buying the whole album doesn't make sense, who needs George Clooney dialogue. I'm sure there are great songs on the album but this is the best please let it be a single
5 Star for 1 song only
After Dark is a fantastic song that I would love to purchase. But to make me, or others, buy the entire soundtrack just to get it? What a joke!!! I can go to the used CD shop down the road and buy it used for $5 and still save money! iTunes, get with it and just put any song you put on here having the option to buy just the song and not the entire album.