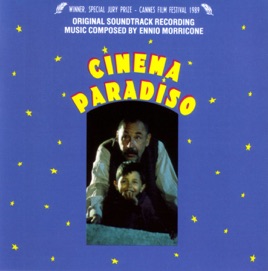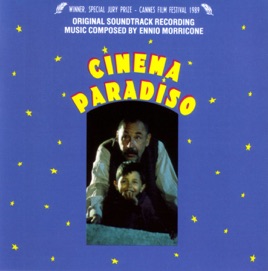 Cinema Paradiso (Original Soundtrack Recording)
Cinema Paradiso
4.8, 69 Ratings

Partial Album
TITLE
TIME

While Thinking About Her Again

Ennio Morricone

Runaway Search and Return

Ennio Morricone

From American Sex Appeal to the First

Ennio Morricone
16 Songs, 35 Minutes
Released:

Nov 17, 1988

℗ 1990 DRG Records
Ratings and Reviews
Perfect score for a perfect film
I just watched "Cinema Paradiso" for the first time since I saw it in on the big screen many, many years ago. It's still as I recall--a really beautiful film supported by a wonderful, mellifluous soundtrack. Then again, we're talking about a score by Ennio Morricone, arguably the greatest film composer of all time. Still, IMHO this may very well be Morricone's very best. It's bouyany, sweet, soulful, and right on the mark. In a word: shimmering.
Beautiful score for a wonderful film.
Gorgeous music, just really beautiful, like the reviewer before me said, I was struck by the music watching the film and that doesn't happen too often to me. Check out Pat metheny's take on it as well. Ennio Morricone is one of my hero's.
The Greatest Score of All Time
In my opinion, Ennio Morricone is the greatest film composer ever to live. When I first saw Cinema Paradiso, one of the main things that struck awe in me about it was the music. The film alone is a testament to the beauty of love, friendship, and cinema; but the music… I have never heard anything more lovely than the music from this film. Sweet, touching, and every adjective in between… Ennio Morricone is truly a miracle.