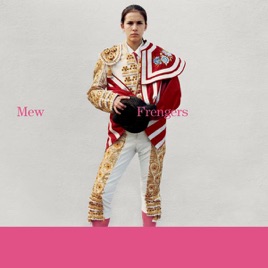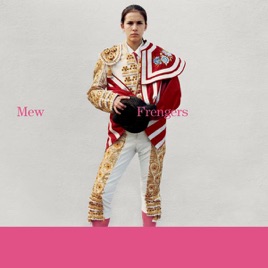 | | TITLE | | TIME |
| --- | --- | --- | --- |
| | | | |
| | | | |
| | | | |
| | | | |
| | | | |
| | Her Voice Is Beyond Her Years | | |
| | Eight Flew Over, One Was Destroyed | | |
| | She Came Home for Christmas | | |
| | | | |
| | | | |
10 Songs, 48 Minutes
Released:

Apr 7, 2003

℗ 2002, 2003 SONY BMG MUSIC ENTERTAINMENT (UK) Limited
Ratings and Reviews
MEW Changed My Life
This band is absolutely amazing and Frengers is their Mona Lisa. I can't say enough about this fantastic amalgamation of beautifully layered music and poetic lyrics. I've listened to this album, along with their newest, "And the Glass Handed Kites," for weeks straight and my ears are still making sense of lyrics, catching subtle bass lines and picking out variations in textured guitar riffs.

This is one of those bands that has just enough "catchy" to get you interested, yet, upon further listening, has the substance to back it up so that you don't burn right through it in a week or so. For a listener like me, who can easily burn through a great album in a month because it's just too simple, this is your band.

If you're still not certain, buy "Am I Wry? No" and "156," give 'em a listen, and then see how you feel. Those, along with "Behind the Drapes," "Eight Flew Over, One Was Destroyed" and "Comforting Sounds" are my favorites. Thank you MEW!
Beautiful.
I feel like a mother who just gave birth to a baby. This album is so precious, flawless, and beautiful to me. I did a bad thing and bought "And the Glass Handed Kites" before "Frengers", though...AtGHK was a masterpiece, don't get me wrong, but Frengers should definently be bought first-hand. It lets you get familiar with Mew and their music, so when you listen to AtGHK, you're open to all of the weird, unique instrumentals and sounds. But even so, I can say with full-honesty, out of an astronomical amount of CD's I own, this one is my absolute favorite. AtGHK was just as mind-blowing, but there's something about Frengers that takes my breath away. Maybe it's how all of the songs just seem to melt into eachother...You start off with the fresh, upbeat "Am I Wry? No" then head into the slightly more solemn "156". Then, after smiling at the cheery sound of "Snow Brigade", you go into a ballad, "Symmetry." That song kind of leaves you with your jaw hanging. It's very slow, but extremely haunting and beautiful. After "Symmetry", "Behind the Drapes" and "Her Voice is Beyond her Years" brings you back into a little more bouncier of a beat. But then, from here on out, its all sheer enchantment. Tracks seven through ten make me shudder with chills and choke back tears. One of the best things about this album is that "Comforting Sounds" is the last track. It's the cherry on top. It finishes off this stupendous album by sweeping you into a euphoria, leaving you wondering what planet your on. Even though AtGHK was great, no album in the world can ever compare to Frengers. Everything about it is perfect, from the lyrics, the sound, even down to the order of the songs. You'd be doing yourself wrong if you buy only one song off of this album, because each and every one of them is breath-taking in their own unique way. You're best off just buying the whole thing.
Do You Know How Lucky You Are?
There are people in this world that will NEVER hear these songs. Can you comprehend that? How fortunate we are to have found this. That Mew exists. That we can hear & appreciate songs like these.

There are times in music, where a note or melody can elevate you to the point where you are reminded that your soul is real. It's sad that moments like these are so few and far between, but that's what makes them so special. There is a moment like that on this album. It comes at 2 minutes & 42 seconds into the song "She Came Home For Christmas". Don't cheapen the gift by fast-forwarding to it, you won't be able to feel it like you would by listening to the song as a whole. Cherish the moment you first hear it. You'll never get it back. Be prepared for it. Let it lift you. Do you see?

I am truly thankful for this album. I couldn't put 3 stars on any of these songs. They are all 4-5 stars at least. Sometimes I wish they had a 6th-star option for the truly transcendant ones.

This is a gift. I hope you can appreciate it.