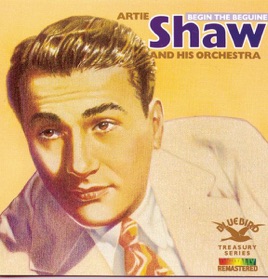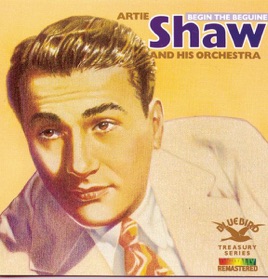 | | TITLE | | TIME |
| --- | --- | --- | --- |
| | | | |
| | Indian Love Call (From "Rose Marie") | | |
| | | | |
| | | | |
| | Artie Shaw and His Orchestra & Artie Shaw | | |
| | Artie Shaw and His Orchestra & Helen Forrest | | |
| | What Is This Thing Called Love? | | |
| | | | |
| | Artie Shaw and His Orchestra & Artie Shaw | | |
| | Artie Shaw and His Orchestra & Artie Shaw | | |
| | | | |
| | Artie Shaw and His Orchestra & Helen Forrest | | |
| | Artie Shaw & His Gramercy Five | | |
| | Artie Shaw & His Gramercy Five | | |
| | | | |
| | | | |
| | Blues, Pts. 1 & 2 (From "Lennox Avenue Suite") | | |
| | | | |
| | | | |
| | | | |
20 Songs, 1 Hour 6 Minutes
Released:

Jan 1, 1987

℗ 1987 BMG Music
Ratings and Reviews
Not to be missed!
Great collection of Artie Shaw standards, with detailed notes for each track identifying the performers, dates and locations of the recordings. Among the greats heard on the various tracks are Billie Holiday, Helen Forrest, Billy Butterfield, Tony Pastor, Buddie Rich, and Johnny Guarnieri--and through it all the virtuoso clarinet work of Artie Shaw. The 1939 recordings of Comes Love and Moon Ray, with Helen Forrest doing the vocalizing, are dynamite.
classic collection
has all the great songs (very similar to the cassette tape i had and loved) and the original recordings (as opposed to some other, even cheaper collections available on itunes which have new, slick recordings -- not recommended!). MOON RAY is underrated! such a great tune.
Artie Shaw: Classic Collectionu
This was one of the greatest bands of the 30's/40's. For me BEGIN THE BEGUINE is worth the price of the album. I grew up with it and could whistle all the parts and solos. Now it's in my iPod so I can take my whole record collection with me to the nursing home.....when it's time. Shaw was without peer on the clarinet and finally retired because he felt he could never play as perfectly as he wanted. This collection gives the uninitiated a great and complete picture of the man and his music.