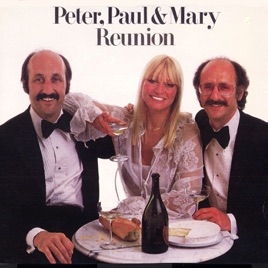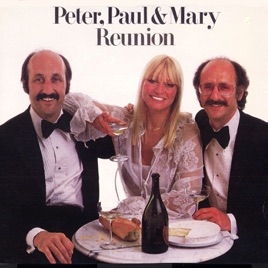 9 Songs, 40 Minutes
Released:

Dec 31, 1977

℗ 2004 Warner Records Inc. Manufactured & Marketed by Warner Strategic Marketing
Ratings and Reviews
Was so glad to be able to download Reunion!
If you're a PPM fan, you've got to add this to your collection! I've never seen this album in CD format (bought it on a cassette tape years ago) and was THRILLED to discover that I could download these songs via iTunes.
Peter Paul & Mary Reunion
A gentle, underpublicized album from one of the all time great folk groups. No huge hits here, but 9 songs that carry you from one to the other. Love the Dylan song, Forever Young. PPM and the Byrds were the best at singing Dylan's work. If you like PPM, you will like this album. If you have bought PPM greatest hits compilations, you will be delighted to find such rich material that you've never heard.
Reunion - Peter, Paul, & Mary
I have this on vinyl and have been searching for a CD for years!! Thanks so much for carrying it so it could be downloaded! It's some of their best music and a couple of the songs have strong personal meaning for me - thank you again!!