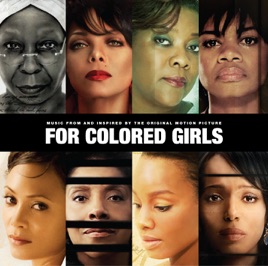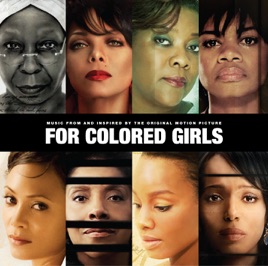 For Colored Girls (Music from and Inspired by the Original Motion Picture)
Various Artists
TITLE
TIME

Main Title (with Joshua Bell, Aaron Zigman & the Hollywood Studio Symphony Orchestra)

Loretta Devine, Kimberly Elise, Whoopi Goldberg, Janet Jackson, Thandie Newton, Phylicia Rashad, Anika Noni Rose, Tessa Thompson & Kerry Washington

Sharon Jones & The Dap-Kings

All Day Long (Blue Skies)

Estelle

Andrea Jones-Sojola, Karen Slack & The Hollywood Studio Symphony Orchestra

Sechita (A Senhora em Amarelo)

Anika Noni Rose & Carondelet Percussion Ensemble

Laura Izibor, Ledisi, Nina Simone & Simone

Main Title (Instrumental)

Aaron Zigman & Joshua Bell
14 Songs, 49 Minutes
Released:

Oct 29, 2010

℗ 2010 This Compilation 2010 Atlantic Recording Corporation for the United States and WEA International Inc. for the world outside of the United States.
Ratings and Reviews
a little uneven, but matches the material
To those who think this is racist: Look into the history of this script. It was written in the 1970's and the stage play is an amazing reflection of the times and the unique struggles black women faced and still face. Are you that blind to anything written before 2004? Your ignorant and uninformed remarks would be laughable if they weren't so pathetic. Get a clue - there is more to life than your own tiny world. And lest you just brush me off as someone reflected in the movie, I'm not. I'm a 57 year old white man. And I am so looking forward to this movie. Ntozake Shange's writings are wonderful, and give a huge window into a world I don't inhabit. Her novels are lyical, her poetry is wise and alive. I only hope the film script does justice to the original stage version - there were no men in that.
Good album, but Janelle Monae ftw!
YES! Janelle Monae! I love this lil lady's music right here! Her covers and original songs are amazing! The rest of the album is very good also, but I do wish that more were available, too.
As for the movie, it's not a racist thing. Most if not all of Tyler Perry's movies are mainly based off of a perspective like that. I don't see a problem with it. Anyone can watch the movie and listen to the album. Anyway, I hope the movie follows up well to this album because its pretty good!
Why
itunes all i want is four women. y cant i just buy that....huh!!!