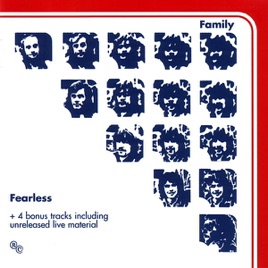 | | TITLE | | TIME |
| --- | --- | --- | --- |
| | | | |
| | | | |
| | | | |
| | | | |
| | | | |
| | | | |
| | | | |
| | | | |
| | | | |
| | | | |
| | In My Own Time [Bonus Track] | | |
| | | | |
| | Between Blue and Me (Live) [Bonus Track] | | |
| | Sing 'Em the Way I Feel (Live) [Bonus Track] | | |
14 Songs, 53 Minutes
Released:

Dec 31, 1970

℗ 2004 Mystic Records
Ratings and Reviews
What Can I say??
I bought this album when it first came out. No one I knew in LA, Calif at the time was into what I was into anyway. I found the oferings from Family to be tasty..tight..literate...bordering on Prog rock of the highest level. It was only a small leap to go from here to things like "Gentle Giant. Be-Bop Deluxe, and the Masters..Genesis.
It was not for nothing that Roger Chapman..frontman to this band..was considered for a time to replace the already-left Peter Gabriel in Genesis...and Phil Collins..onstage..used to blatantly rip off
Rogers deft twirls and hand gestures...such as they were VERY unusual..to say the least.

This is one of the bands BEST..you all should enjoy it once.
Lingers years after you last played it
Like G-Bear I bought the vinyl when it first came out (yes I still have my vinyl) and played it until my brain was saturated. Great music, very original -- not Corporate Rock by any stretch of the imagination.

You have to LISTEN rather than treat it as elevator music!

Family's finest (IMHO) are Music in a Doll's House and this album. What makes a classic? Music you find the DJ in your head playing, 30 years on.
Family - Fearless
An all time fave - first heard "Take Your Partners" in 1971 on Chicago FM stations in the wee hours. Couldn't rest until I got the LP and played the grooves off it. A great, dynamic, underrated album that still sounds fresh today.