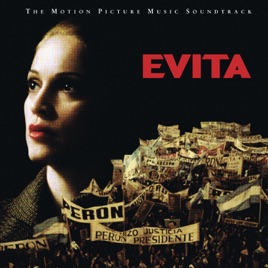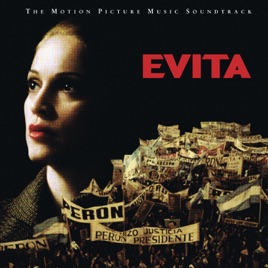 Evita (The Complete Motion Picture Music Soundtrack)
Various Artists
TITLE
TIME

A Cinema in Buenos Aires, 26 July 1952

Evita Soundtrack

Antonio Banderas & Madonna

On This Night of a Thousand Stars

Jimmy Nail

Eva and Magaldi / Eva Beware of the City

Antonio Banderas, Jimmy Nail, Julian Littman & Madonna

Another Suitcase In Another Hall

Madonna

Antonio Banderas & Madonna

Charity Concert / The Art of the Possible

Antonio Banderas, Jimmy Nail, Jonathan Pryce & Madonna

I'd Be Surprisingly Good for You

Jonathan Pryce & Madonna

Andrea Corr, Jonathan Pryce & Madonna

Antonio Banderas & Madonna

Antonio Banderas, Jonathan Pryce & Madonna

On the Balcony of the Casa Rosada, Pt. 1

Jonathan Pryce

Don't Cry for Me Argentina

Madonna

On the Balcony of the Casa Rosada, Pt. 2

Madonna

Antonio Banderas & Madonna

Antonio Banderas, Gary Brooker, John Gower, Jonathan Pryce, Madonna & Peter Polycarpou

The Actress Hasn't Learned the Lines (You'd Like to Hear)

Antonio Banderas & Madonna

And the Money Kept Rolling In (And Out)

Antonio Banderas

Antonio Banderas & Madonna

Your Little Body's Slowly Breaking Down

Jonathan Pryce & Madonna

Antonio Banderas & Madonna
31 Songs, 1 Hour 48 Minutes
Released:

Nov 12, 1996

℗ 1996 Warner Records Inc.
Ratings and Reviews
Madonna and Bandares are Rainbow High
I will admit to be introduced to Evita through this movie and soundtrack so it is my preferred primer. But I have a copy also of the original 1979 cast recording. While LuPone is a stronger vocalist by far, I prefer the film soundtrack for many reasons. Antonio Banderas' Che is excellent. This version also includes "The Lady's got Potential" which is simply stunning. This is Madonna's best work, singing and acting. I believed her as Evita...and her singing is less forced or stagey than LuPone. This Evita is human, flawed and terrific, and if the theatre training is missing with M, the emotion of the story is certainly not. Hello and Goodbye, Che and Eva's Waltz, and Another Suitcase and Another Hall are stronger here. I do give the nod to LuPone for the signature Don't Cry for Me...but M does an admirable job. A true Evita fan will own all versions, and this especially for the two new songs.
WOnderful!
I luv this so much banderas and madonna are wonderful and they are fantastic in the movie! Its great : )
Great Movie, Great Song
Evita is great and Madonna is fabulous as always. These songs are so catchy. I just cant stop singing them!