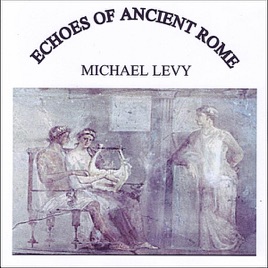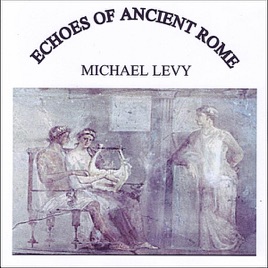 | | TITLE | | TIME |
| --- | --- | --- | --- |
| | Echoes of Ancient Rome (Original Composition for Replica Lyre in the Ancient Phrygian Mode) | | |
| | The Temple of Mars (Original Composition for Replica Lyre in the Ancient Dorian Mode) | | |
| | The Temple of Venus (Original Composition for Replica Lyre in the Ancient Hypolydian Mode) | | |
| | The Temple of Saturn (Original Composition for Replica Lyre in the Ancient Hypodorian Mode) | | |
| | The Temple of Jupiter (Original Composition for Replica Lyre in the Ancient Lydian Mode) | | |
| | Procession of the Vestal Virgins (Original Composition for Replica Lyre in the Ancient Hypophrygian Mode) | | |
| | Roman Banquet (Original Composition for Replica Lyre in the Ancient Hypophrygian Mode) | | |
7 Songs, 21 Minutes
Released:

Jan 1, 2011

℗ 2011 Michael Levy
Ratings and Reviews
Echoes of the Life of Rome
Michael Levy's fantastic album "Echoes of Ancient Rome" does a great honour to Classical Studies and Early Music. With its use of the ancient modes in a similar manner to how they would have been used in the days of the Romans, that is to say as the basis for new compositions, Levy is able to reawaken the long dormant past of Roman culture and music. One would expect to find Ovid, Cicero, Vergil, or Martial standing before you reciting their latest works at dinner whilst hearing this fantastic music.
Authentic Melodies and Performance
I have listened to Michael Levy on and off for a while now through other tubes etc, and recently purchased a few of his Rome/Greek albums -- very much worth the purchase, and to say the least it is not that they are expensive! It is not easy to find enjoyably authentic music as this, while he still has a touch of originality you can hear through his original compositions.
To anyone interested in Ancient Greek or Roman studies I highly recommend purchasing his albums. I can not emphasise any of these points enough, if you have not obtained his works yet yourself
Time Travelling in the 21st Century
Step into the Tardis, or Mr. Peabody's wayback machine and travel to ancient Rome. Visit the balmy courts where slaves attend Kings and Queens with fans, food and finery, while the court musician plays in a quiet corner for their quiet contemplation. These ancient-inspired tunes will take you there, with just a pinch of your imagination to fuel your time machine, Michael Levy will be your tour guide to help you relive the past in glorious splendor.