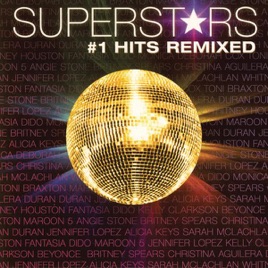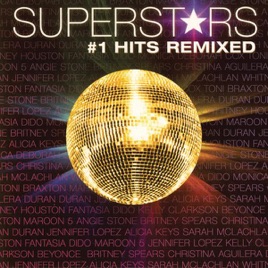 Superstars #1 Hits Remixed
Various Artists
TITLE
TIME

Since U Been Gone (Jason Nevins Radio Edit)

Kelly Clarkson

This Love (Junior Sirius Edit)

Maroon 5

(Reach Up for the) Sunrise (Jason Nevins Remix)

Duran Duran

World On Fire (JXL Club Edit)

Sarah McLachlan

White Flag (Al B. Rich Radio Mix)

Dido

Milkshake (DJ Zinc Radio Edit)

Kelis

Toxic (Armand Van Helden Radio Edit)

Britney Spears

So Gone, Pt. 2 (The Scumfrog Full Vocal Edit)

Monica

Get the Party Started (P!nk Noise Disco - Edit)

P!nk

Naughty Girl (Calderone Quayle Club Mix Edit)

Beyoncé

Dreamlover (Def Club Mix-Edit)

Mariah Carey

It's Not Right But It's Okay (Thunderpuss Radio Mix)

Whitney Houston

It's All Good (The Scumfrog Radio Edit)

Fantasia

Waiting for Tonight (Hex's Momentous Video Remix)

Jennifer Lopez

Beautiful (Peter Rauhofer Radio Edit)

Christina Aguilera

Nobody's Supposed to Be Here (Hex Hector Dance Mix)

Deborah Cox

Wish I Didn't Miss You (Hex Hector/Mac Quayle Mix)

Angie Stone

Un-Break My Heart (Soul-Hex Anthem Radio Edit)

Toni Braxton
19 Songs, 1 Hour 16 Minutes
Released:

Jan 1, 2005

℗ This compilation (P) 2005 SONY BMG MUSIC ENTERTAINMENT
Ratings and Reviews
Alicia Keys!
5 Stars for Diary! It's rare that you ever hear any of Alicia Keys' songs remixed faster and it sounds pretty good at that! The rest aren't half bad as well.
Where Have They Gone?!
It is obvious that this is not the complete album . . . the sad thing is there were at least 2 more songs (Duran Duran's Reach Up For The Sunshine and Maroon 5's This Love) here when I visited the listing before. Since then I have made an iMix and discovered 6 songs including these two that have disappeared from the iTunes catalog. What is going on? (One star demotion for disappearing songs)
Okay
okay, since it is a partial album that skips tracks 3 and 4, i have a joke :
Tracks 1, 2, 5-
3 SIR, 3!