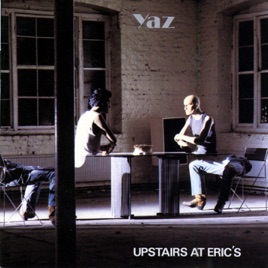 | | TITLE | | TIME |
| --- | --- | --- | --- |
| | | | |
| | | | |
| | | | |
| | I Before E Except After C | | |
| | | | |
| | | | |
| | | | |
| | | | |
| | | | |
| | | | |
| | Bring Your Love Down (Didn't I) | | |
11 Songs, 43 Minutes
Released:

Aug 23, 1982

℗ 2005 Warner Stategic Marketing
Ratings and Reviews
a truly great piece of musical art
this album has to be one of the best musical outputs of all the 80's. even though the hits such as "don't go", "only you" and "situation" receive the most attention, it is the other songs such as "too pieces", "bad connection", and "midnight" that elevate this album from good to great. in my musical opinion the latter 3 songs are far superior then the hits. this album is truly a timeless classic.
One of the Most Influential Synth-Pop albums
After leaving Depeche Mode, Vince Clark teamed up with former schoolmate Alison Moyet to create this album, which was immediately recognized as groundbreaking. Along with Soft Cell, Yaz(oo) aimed to soften the cold harshness of Kraftwerk's computer music with impassioned vocals. And there are few vocalists in pop history who do passion like Alison Moyet. The standout tracks here are classics--"Don't Go" and "Only You" are perfect pop. And "Situation" can lay claim to being one of the most important dance records of all time, influencing not only British technopop, but also American R&B synthpop. Most of the rest of the songs stand up very well to these three, with the exception of "I Before E," which was a failed experiment in tape-looping. But it is the exception that proves the rule--this is a great album. Moyet and Clarke have both recorded lots of good music after this album, but never surpassed its transcendent beauty. It is incredible, given the proliferation of technology in the last 25 years, that this almost rudimentary synth-pop album would sit at the top of the heap in the category, but it does. One of the best British pop albums of all time--without a doubt.
The Essence of the 80's
This album is great mix of 80's dance songs such as "Bring Your Love Down" and intense songs like "Midnight" and "Winter Kills". Yaz is one of the most 80ish bands out there, just listen to "Goodbye Seventies". Upstairs at Eric's is deffinitly worth owning just to listen to a diffrent blend of music.