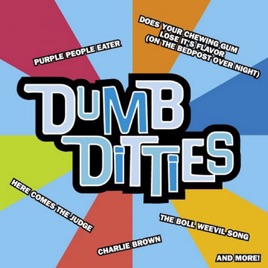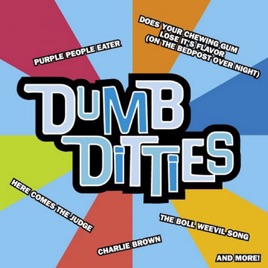 Dumb Ditties (Rerecorded Version)
Various Artists
TITLE
TIME

The Purple People Eater (Rerecorded)

Sheb Wooley

Does Your Chewing Gum Lose Its Flavor (On the Bedpost Overnight) [Rerecorded]

Lonnie Donegan

Charlie Brown (Rerecorded)

The Coasters

The Jolly Green Giant (Rerecorded)

Lynn Easton formerly of The Kingsmen

The Boll Weevil Song (Rerecorded)

Brook Benton

Almost Persuaded, No. 2 (Rerecorded)

Ben Colder

(I'm Gettin') Nuttin' for Christmas

Billy Pressman

Papa-Oom-Mow-Mow (Rerecorded)

The Rivingtons

Ding Dong the Witch Is Dead

Gingerbread
12 Songs, 31 Minutes
Released:

Jan 1, 2002

℗ 2002 K-tel
Ratings and Reviews
K-tel's Dumb Ditties
Another example of trying to make a fast buck on people who do not know what the original versions sound like! You couldn't give me these versions for 'Free". The title is correct, Dumb! You cannot insult my RockNRoll intelligence! In order for me to submit this review, I have to give this album at least 1 star, I prefer 0.
MMMM....I like DR.DEMENTO better
Dr.demento has better qualatie songs, and all originals
Fake
If someone's ears have aged, that would explain why they seem to think these inferior, cheap re-recordings sound superior to the originals that can be found elsewhere here and on other sites. Forget that the originals you can find elsewhere are remastered for modern sound quality, the fact one might mistakenly think these are the real deal is a crime against the fine musicians whose original music deserves to be heard as they originally intended. Fail.