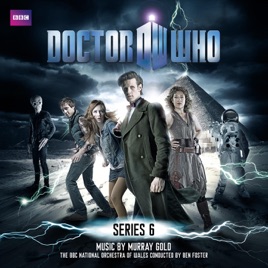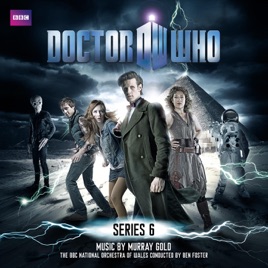 Doctor Who - Series 6 (Soundtrack from the TV Series)
Murray Gold
| | TITLE | | TIME |
| --- | --- | --- | --- |
| | | | |
| | | | |
| | | | |
| | | | |
| | | | |
| | | | |
| | | | |
| | | | |
| | | | |
| | | | |
| | | | |
| | | | |
| | | | |
| | | | |
| | The Curse of the Black Spot | | |
| | | | |
| | | | |
| | | | |
| | | | |
| | | | |
| | | | |
| | | | |
| | | | |
| | | | |
| | | | |
| | | | |
| | Loving Isn't Knowing (The Almost People Suite) | | |
| | | | |
| | | | |
| | | | |
| | | | |
| | | | |
| | | | |
| | | | |
| | | | |
| | | | |
| | | | |
| | | | |
| | | | |
| | | | |
| | Tick Tock Round the Clock | | |
| | | | |
| | | | |
| | | | |
| | | | |
| | | | |
| | | | |
| | | | |
| | | | |
| | What's Left to Be Scared Of? | | |
| | | | |
| | Stormageddon, Dark Lord of All | | |
| | | | |
| | | | |
| | | | |
| | | | |
| | | | |
| | | | |
| | | | |
| | | | |
| | | | |
| | Brigadier Lethbridge - Stewart | | |
| | | | |
| | | | |
| | The Wedding of River Song | | |
| | The Majestic Tale (Of a Madman In a Box) | | |
66 Songs, 2 Hours 21 Minutes
Released:

Feb 28, 2012

℗ 2012 Silva America
Ratings and Reviews
Daleks invaded this soundtrack!
Obviously, 4 Daleks invaded and rated this album lower than 5 *****. Be on the lookout Whovians!
Got it the day it was released! Murray Gold does not disappoint.
Would have bought it on iTunes if it was released here sooner!

So much to like: The variety of styles, moods, and emotions captures the brilliance of each episode from this series.
The remix of "I am the Doctor" with "I am the Doctor in Utah" makes for a unique series intro while pieces like "Melody Pond" and "Loving isn't Knowing" take your breath away. I am very pleased that "The Majestic Tale (Of a Mad Man in a Box)" was added as a bonus track - definitely pure Who. I also appreciate how music from each episode is included (and in order).

Well deserving five stars. I've never come across better music for a TV series!
Best Soundtrack yet
Every Doctor Who soundtrack has been pretty great - but this one easily blows the rest out of the water.