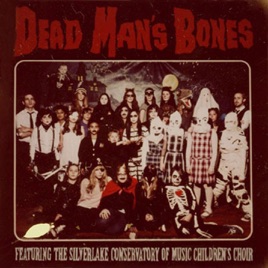 EDITORS' NOTES
Ryan Gosling and Zach Shields originally wanted to film a horror musical using these spooky folky tunes, but instead decided to only pursue the songs. The duo met via their girlfriends and bonded over horror movies, sci-fi books and music. Before recording, they laid down some rules — no electric guitars, no click-tracks, and ditch any part that went over three takes. They also took on some instruments unfamiliar to them prior to rolling tape. And with ample help from the children of the Silverlake Conservatory of Music, the end result is a wonderfully eerie album of psychedelic haunted house music with obvious nods to the Langley Schools Music Project. "Dead Hearts" sets the tone mildly with hushed crooning before the song gets orchestral and glass can be heard shattering in the background. The creepy "In The Room Where You Sleep" is as disturbing as it is cool, sounding at times like the Arcade Fire playing through a bad trip. Celebrity aside, the kids are the brightest stars here, especially on the contagiously fun '50s-inspired monster mash, "My Body's a Zombie For You."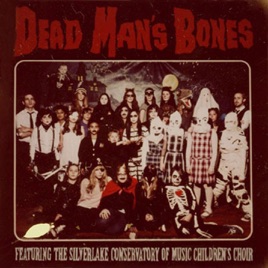 Dead Man's Bones (feat. The Silverlake Conservatory of Music Children's Choir)
Dead Man's Bones
EDITORS' NOTES
Ryan Gosling and Zach Shields originally wanted to film a horror musical using these spooky folky tunes, but instead decided to only pursue the songs. The duo met via their girlfriends and bonded over horror movies, sci-fi books and music. Before recording, they laid down some rules — no electric guitars, no click-tracks, and ditch any part that went over three takes. They also took on some instruments unfamiliar to them prior to rolling tape. And with ample help from the children of the Silverlake Conservatory of Music, the end result is a wonderfully eerie album of psychedelic haunted house music with obvious nods to the Langley Schools Music Project. "Dead Hearts" sets the tone mildly with hushed crooning before the song gets orchestral and glass can be heard shattering in the background. The creepy "In The Room Where You Sleep" is as disturbing as it is cool, sounding at times like the Arcade Fire playing through a bad trip. Celebrity aside, the kids are the brightest stars here, especially on the contagiously fun '50s-inspired monster mash, "My Body's a Zombie For You."
| | TITLE | | TIME |
| --- | --- | --- | --- |
| | Intro (feat. The Silverlake Conservatory of Music Children's Choir) | | |
| | Dead Hearts (feat. The Silverlake Conservatory of Music Children's Choir) | | |
| | In the Room Where You Sleep | | |
| | Buried in Water (feat. The Silverlake Conservatory of Music Children's Choir) | | |
| | My Body's a Zombie For You (feat. The Silverlake Conservatory of Music Children's Choir) | | |
| | Pa Pa Power (feat. The Silverlake Conservatory of Music Children's Choir) | | |
| | Young & Tragic (feat. The Silverlake Conservatory of Music Children's Choir) | | |
| | Paper Ships (feat. The Silverlake Conservatory of Music Children's Choir) | | |
| | Lose Your Soul (feat. The Silverlake Conservatory of Music Children's Choir) | | |
| | Werewolf Heart (feat. The Silverlake Conservatory of Music Children's Choir) | | |
| | Dead Man's Bones (feat. The Silverlake Conservatory of Music Children's Choir) | | |
| | Flowers Grow Out of My Grave (feat. The Silverlake Conservatory of Music Children's Choir) | | |
12 Songs, 44 Minutes
Released:

Oct 2, 2009

℗ 2009 Anti, Inc.
Ratings and Reviews
Just in time for Halloween.
Not everyday does one come accross an album with as much character as "Dead Man's Bones". The personality of these individuals can be heard in every lyric and chord. The music is haunting, in perfect time for Halloween, yet beautiful and sentimental. The children's choir gives the gentlemen not only a soft side, but a creepy side - and they use both to their advantage. They say their influence was Disney's "The Haunted Mansion". I'd believe it.
The album does not contain the live versions of "In The Room Where You Sleep" and "Name In Stone", which is indeed disappointing. Their live performances are very raw, as are many of their recorded works. "Dead Man's Bones" is certainly one of the most original and exciting albums I have heard since I've been back at school. I fully recommend them to anyone and everyone.
If you are looking for a single song to sample, I'd go with "My Bodies A Zombie For You", which is possibly the most catchy song ever, or "Paper Ships" - one of my personal favorites. I hope other people enjoy this group as much as I do.
fifi/silverlake choir rox my sox
,
yayay
i had a really fun time working on this album! zach and ryan u guys are great ill miss preforming with u guys. oh and i loved how the album turned out! thank u for the great experience!!! xoxoxoxxoxoxxoxoxoxoxxoxoxox
From a Very Happy Back-Up Zombie
I sang backup for Dead Man's Bones in both New York and Philly, and all I can say is that everything about this is amazing. The music is so fun and different, plus I couldn'y stop humming any of these for a month after the concerts. The music is unique and amusing, but still very well written. There are different "flavors" to the music, so it's easy to find a song for everyone on this CD. The Dead Man's Bones concerts were, and are just as fun as the music. Ryan and Zach are AMAZING people, and artists. They aren't perfectionists, and they just want to have fun. They're both amazingly talented, (and gorgeous ;D). They gave everyone who sang with them a free CD so we could practice, but I'm still having fun listening to the music on my ipod. I highly reccomend the band, and all the songs are great to listen to. The important thing is to remember the AMAZING people behind the music, (the entire band is great). Buy this, and you won't regret it.