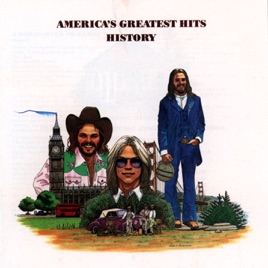 EDITORS' NOTES
Early America hits like "A Horse with No Name" and "Ventura Freeway" sound even more evocatively intimate after George Martin remixed them for this 1975 singles collection. The Beatles' studio guru added strength and presence to mid-'70s America hits like "Sister Golden Hair" and "Lonely People" (the trio's answer track to "Eleanor Rigby"), and he facilitated such touches as the Brazilian tinge of "Tin Man."
EDITORS' NOTES
Early America hits like "A Horse with No Name" and "Ventura Freeway" sound even more evocatively intimate after George Martin remixed them for this 1975 singles collection. The Beatles' studio guru added strength and presence to mid-'70s America hits like "Sister Golden Hair" and "Lonely People" (the trio's answer track to "Eleanor Rigby"), and he facilitated such touches as the Brazilian tinge of "Tin Man."
12 Songs, 38 Minutes
Released:

Oct 24, 1975

℗ 1972, 1973, 1974, 1975 Warner Records Inc.
Ratings and Reviews
Not a song gets skipped
This is one of the few albums I have that I genuinely enjoy every song. I usually keep my iTunes on shuffle, but when the shuffle hits one of these songs, I turn off the shuffle, start the ablum from the beginning, and hit shuffle again when it's done.
Great(:
I am only 14 and I absolutely love Sister Golden Hair!! It's just amazing, the whole album is. <3
One the best albums of the 70s!
This is a compilation of their early stuff and it is jsut a fantastic collection of beautiful melodies and fantastic guitar playing. The tunes are either top tapping good or jsut songs you wnat to sing along with. There is nothing complex here, but simple and beautiful classics. There is not a bad song on the album and at least half of these songs are all-time classics. This is one of those rare albums that you can just hit play and don't have to skip a single song. This album is one of my top 10 favorites of all time, and I am really into a heavier sound but these songs just work on a gut level.